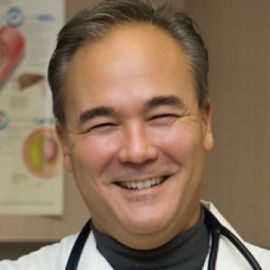 Dr. William Davis is author of the #1 New York Times Bestselling book, "Wheat Belly: Lose the Wheat, Lose the Weight, and Find Your Path Back to Health" (Rodale, 2011), published worldwide in 27 countries. He is also author of "Wheat Belly Total Health" (Rodale 2014), the "Wheat Belly Cookbook" (Rodale 2012) and "Wheat Belly 30-Minute (or Less!) Cookbook" (Rodale 2013). His books have sold over 3 million copies in over 40 countries.
Formerly an interventional cardiologist, he now confines his practice to prevention and reversal of coronary disease in Milwaukee, Wisconsin. He is a vocal proponent of providing the public with self-empowering advice to seize control over their own health. Dr. Davis is one of the doctors who is speaking out against the Standard American Diet, and making a real difference–not only by calling out the problem, but by his actionable advice and the recipes he provides for people to take their health into their own hands. He appears frequently in national media including "The Dr. Oz Show," "Live! With Kelly," "CBS News," and has been featured in many national publications in the U.S. and Canada.
Dr. Davis is a graduate of the St. Louis University School of Medicine, followed by training in internal medicine and cardiology at the Ohio State University Hospitals, and training in interventional cardiology at the Case-Western Reserve Hospitals in Cleveland, Ohio. He is co-founder of Cureality.com, an informational website that provides self-empowering health information to the public.
Videos
---
Speech Topics
---
Wild, Naked, Unwashed: The Dietary Lessons of Human History
The national dietary conversation is plagued by incompatible ideas and confusion. But astonishing wisdom is obtainable just by asking how humans thrived throughout history free of the "diseases of civilization." Listeners come away with a new appreciation for how to reclaim control over health and weight.
Should Grains Be Eliminated From the Human Diet?
The Wheat Belly books turned the nutritional world topsy-turvy with its contrary arguments and large following of readers who lost impressive amounts of weight and were freed from many health conditions. But why would this happen? Why would the foods we are advised to consume by all official providers of nutritional advice be potentially responsible for so many human health problems?
Wheat Belly: Lose the Wheat, Lose the Weight and Find Your Path Back to Health
I recount how and why we find ourselves in a peculiar predicament: a human diet largely reliant on the seeds of grasses--"grains"--an unnatural situation made worse by the fiddling of agribusiness and genetics research. But understand a handful of basic principles and listeners are provided astounding personal control over health and weight.
Undoctored: Why Health Care Has Failed You and How You Can Become Smarter Than Your Doctor
We live in an exceptional time in history: Information access, online collaboration, smartphone apps, and new health devices have the potential to allow the individual to take extraordinary control over personal health--without the doctor, without the healthcare system, all at little to no cost, while achieving health that is superior to that obtained through conventional means. We are on the cusp of a dramatic disruption of the notion of healthcare.
Related Speakers View all
---
Dr. Mehmet Oz

Cardiothoracic Surgeon; Host of "The Dr. Oz Show;" C...

Dr. Ian Smith

Doctor, New York Times Bestselling Author, Medical C...

David Zinczenko

Former Vice President of Men's Health, Women's Healt...

Dr. Dean Ornish

Physician, Leading Researcher in Healthcare, Founder...

Bob Harper

Personal Trainer & Former Host of "The Biggest Loser...

Dixon Chibanda

Psychiatrist & Director of the African Mental Health...

Dr. Josh Axe

Wellness Physician, Radio Show Host, Physician for O...

Marty Makary, M.D.

Healthcare Futurist, Johns Hopkins Surgeon & Profess...

David Nico

Author, Health Strategist, & Leadership Well-Being E...

Dr. Holly G. Atkinson

Award-Winning Medical Journalist

Montel Williams

Emmy Award-Winning Talk Show Host Best Known For "Th...

Star Jones

Former Co-Host of "The View", Social Justice & Heart...

Nieca Goldberg

Cardiologist & Medical Director of the NYU Center fo...

Dr. Steven Gundry

Cardiothoracic Surgeon, Heart Surgeon, Medical Resea...

Dr. Arun K. Singh

Prolific Cardiac Surgeon, Professor of Surgery at Br...

Jay Olshansky

World-Renowned Expert On Aging & Longevity; Research...

David Casarett MD

Physician, Author, Researcher, Entrepreneur

Larry Komer, MD

Peak Performance Institute, Healthcare Innovation Ex...

Dr. Lloyd Minor

Scientist, Surgeon & Academic Leader; Dean of the St...

Lee Haney

Mr. Olympia, Author, Bodybuilder, Entrepreneur
More like William