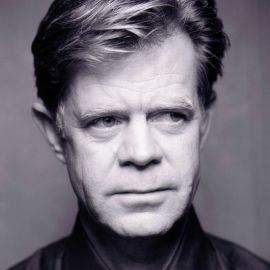 A consummate character actor adept at playing loners and losers of all stripes, Macy owes his career in large part to one man: writer-director David Mamet. The two met when Macy, who had been studying veterinary medicine in West Virginia, transferred to Goddard College in Vermont, where Mamet taught. They both subsequently moved to Chicago in the early 1970s and founded the St. Nicholas Theater Company, where Macy starred in a number of early Mamet plays (American Buffalo, The Water Engine), brilliantly spitting out the author's signature staccato dialog. In the '80s, Macy relocated to New York, where he occasionally landed TV guest spots, but made his biggest impression off-Broadway, embodying a host of unhappy, hapless souls. He also continued his fruitful collaboration with Mamet. In addition to working together on a number of plays (Bobby Gould in Hell, Oleanna), the two men co-founded the lauded Atlantic Theater Company. So it's not surprising that Mamet gave Macy his first significant big-screen roles, including turns in House of Games, Homicide and the 1994 adaptation of Oleanna, in which he played a professor accused of sexual harassment. But ironically, Macy's Hollywood breakthrough had nothing to do with his buddy. As a desperate car salesman who ill-advisedly hires two thugs to kidnap his wife in Joel and Ethan Coen's Fargo, Macy used his hangdog persona to hilarious effect and deservedly earned an Oscar nod for the 1996 film. Now that Hollywood recognized both his face and his name, the offers came pouring in, and Macy popped up in so many projects (including Wag the Dog, Air Force One and Boogie Nights, all in 1997), he seemed like the hardest-working man in show business. He also gained exposure through recurring roles on TV's ER and Sports Night, starring opposite his real-life wife, Felicity Huffman, in the latter. Macy remained incredibly prolific in the '00s, appearing in big-budget flicks (Jurassic Park III, Seabiscuit), indies (The Cooler, Thank You for Smoking) and a number of critically acclaimed TV movies, including Door to Door as a cerebral palsy-stricken salesman, which earned him Emmys for both acting and writing. But he always made time for Mamet, even appearing as the President of the United States in the writer's CBS action series, The Unit, in 2007, and taking over the lead role in Mamet's Broadway production of Speed-the-Plow in 2009, after original star Jeremy Piven unexpectedly left the show. In 2010, Macy reunited with ER producer John Wells to play an alcoholic father on the Showtime dramedy series Shameless.
Videos
---
Related Speakers View all
---
David Harbour

Film & Television Actor; Known for "Stranger Things"

Robert Emms

Actor & Director

Nick Jonas

Multi-Platinum & Grammy Nominated Recording Artist, ...

Julianne Moore

Oscar-Winning Actress

Sam Worthington

English-born Australian actor, best known for the po...

Simon Lovell

English Comedy Magician, Card Shark Actor and Con Man

Michael Stuhlbarg

Award-Winning Actor

David Strathairn

David Russell Strathairn is an American actor. He ha...

Demián Bichir

Academy-Award Nominated Actor; Best Known for "The H...

Stellan Skarsgard

Swedish Actor, Known for "Good Will Hunting", "Mamma...

Louis Lombardi

Actor; Known for his Notable Appearances in "24" and...

Michael McDonald

Michael James McDonald is an American stand-up comed...

Liev Schreiber

American Actor, Producer, Director, and Screenwriter

Patrick Renna

Actor Known for "The Sandlot"

Jake Weber

Film & Television Actor

Nicholas Hoult

British actor known for "About a Boy," "Skins" and "...

Reese Witherspoon

Academy Award-Winning Actress & Producer, Founder of...

Sean Astin

Actor, Director, Voice Artist & Producer Known For "...

Martha Plimpton

Actress, Singer, Reproductive Rights Advocate Known ...

Evan Handler

Actor, Author, Screenwriter & Journalist; Best Known...
More like William