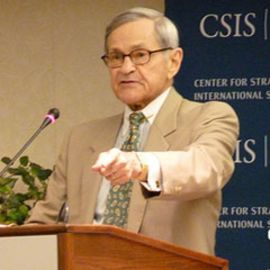 William J. Taylor, Jr.
Senior Adviser, International Security Program
William (Bill) Taylor, CSIS senior adviser, holds a Ph.D. with distinction from American University in Washington, D.C., and completed postdoctoral studies at the American University of Beirut. A former U.S. Army colonel elected to the Infantry Officer Candidate School Hall of Fame, he served in tank and rifle battalions in Germany, Korea, and Vietnam, where he was decorated for heroism. He was a professor, director of national security studies, and director of debate at West Point; was a visiting professor at the National War College; and was an adjunct professor at the School of Foreign Service at Georgetown University. He has lectured and debated frequently before government, academic, and corporate groups; coaches debate on an individual and group basis; and directs a debate clinic for the Abshire-Inamori Leadership Academy at CSIS.
Taylor has appeared on major television and radio networks worldwide more than 1,200 times and has had more than 500 articles published in major newspapers internationally. He was the subject of a Washington Post Magazine cover story, as well as a Washington Times "Doers in Washington" feature. His 17 published books include American National Security: Policy and Process, 6th rev. ed. (Johns Hopkins University Press, 2009).
Speech Topics
---
ABSHIRE-INAMORI LEADERSHIP ACADEMY, INTERNATIONAL SECURITY PROGRAM
Related Speakers View all
---
J. Christopher Daniel

Senior Associate (Consultant), Global Health Policy ...

Murray Hiebert

Deputy Director and Senior Fellow, Chair for Southea...

Stephen Flanagan

Henry A. Kissinger Chair in Diplomacy and National S...

Carl W. Baker

Director of Programs, Pacific Forum CSIS

Christopher K. Johnson

Senior Adviser and Freeman Chair in China Studies

Margaret Lane Taylor

Council on Foreign Relations Fellow

Sergey Markedonov

Visiting Fellow, Russia and Eurasia Program

Nicholas Szechenyi

Deputy Director and Senior Fellow, Office of the Jap...

Rick "Ozzie" Nelson

Director, Homeland Security and Counterterrorism Pro...

Michael Messina

Director of Development, Pacific Forum CSIS

Brad Glosserman

Executive Director, Pacific Forum CSIS

Bonnie S. Glaser

Senior Adviser for Asia, Freeman Chair in China Stud...

Gerald Hyman

Senior Adviser and President of Hills Program on Gov...

Curtis Buzzard

Military Fellow, International Security Program

Matthew P. Goodman

William E. Simon Chair in Political Economy

Nathaniel Ahrens

Deputy Director and Fellow, Hills Program on Governance

David Santoro

Senior Fellow for Nonproliferation and Disarmament, ...

Sharon Squassoni

Director and Senior Fellow, Proliferation Prevention...

Stephanie Sanok

Deputy Director and Senior Fellow, International Sec...

Victor Cha

Senior Adviser & Korea Chair of the Center for Strat...
More like William