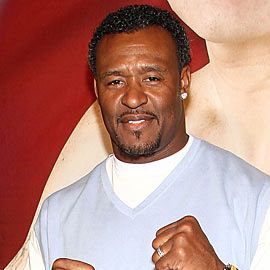 The middle of three children, McGinest attended Long Beach Polytechnic High School, where he was a two sport phenom, garnering all-state honors in football and basketball. On the gridiron, he earned All-American recognition from Super Prep, Blue Chip and Tom Lemming magazines and was selected to countless all-star teams, earning all-city, all-state, and all-region honors as a linebacker in 1989. He totaled 107 tackles, including 18 sacks, two fumble recoveries, four passes defensed, including an interception, and blocked four kicks as a senior. On the courts, he earned Long Beach Press-Telegram "Best in the West," All-CIF Southern Section and all-league honors while averaging 14 points per game during the 1989-90 season.
Some of McGinest's classmates at Poly included rappers Snoop Dogg and Warren G., singer Nate Dogg, actress Cameron Diaz, and GC Pro's Paul Henry.
From 1990 to 1993, McGinest played football at the University of Southern California. He wore number 55 and carried on the legacy of the jersey established by his predecessor, All-American linebacker Junior Seau. McGinest earned all-conference honors three straight years and earned All-American acclaim. During his senior year (1993), he was a Lombardi Award finalist, and earned Playboy All-American and All-Pac-10 conference honors. He started every game at weakside defensive end for the Trojans. McGinest finished his collegiate career with 193 tackles (134 solos), 29 sacks (171 yards), 48 tackles for loss (238 yards) and 26 passes batted away, registered 68 tackles (42 solos), including six sacks and 13 tackles for losses, and caused one fumble and recovered another. McGinest received a degree in public administration from USC in 1994.
McGinest was drafted by the New England Patriots in the first round (fourth overall) of the 1994 NFL draft. He had been one of the cornerstones for New England's success in winning the Super Bowl in 2001, 2003, and 2004. He was nominated to the Pro Bowl twice--in 1996 and 2003. At the start of the 2005 season, he ranked fourth among the Patriots all-time sack leaders with 72 career sacks.
In the 2005 wild-card game (which the Pats won 28-3) against the Jacksonville Jaguars, he set an NFL postseason record by recording 4.5 sacks in one game as well as breaking Bruce Smith's record for the most all-time sacks in the postseason with 16 currently. His 78 career sacks rank third all time for the Patriots. The Patriots released the veteran linebacker on March 9, 2006. Although the Patriots weren't struggling to get under the $102 million cap, McGinest carried a cap figure of more than $7 million, which ultimately led to the Patriots' decision to cut him. On March 15, 2006, he signed with the Cleveland Browns, whose head coach, Romeo Crennel, was the Patriots' defensive coordinator. McGinest signed a three-year deal worth $12 million with $6 million in guarantees and bonuses.
When it comes to donating time and money to charitable organizations, McGinest has a solid reputation as being one of the most generous givers in all of sports. He remains dedicated to his native Long Beach, where he established the Willie McGinest Freedom School, a program which aims to provide social and cultural enrichment for neighborhood youth. On May 3, 2005, the city council of Long Beach declared that every year, May 3 will be recognized as Willie McGinest Day in recognition of his longstanding charitable efforts and civic involvement. During the 2004 holiday season, McGinest sponsored "Shop with a Jock," an event that gave 50 Boston-area children the opportunity to go on a $100 shopping spree with him and his teammates.
McGinest owns an entertainment company in Los Angeles called "55 Entertainment." McGinest and his childhood friend Snoop Dogg are also founders and co-owners of Icon Sports + Entertainment, a company geared toward helping athletes realize their potential in the entertainment industry.
Related Speakers View all
---
Shaun O'Hara

NFL Network Analyst & Super Bowl XLII Champion with...

Troy Brown

Former New England Patriots Wide Receiver, Has worke...

Mike Vrabel

Head Coach of the Tennessee Titans

Rodney Harrison

Television Analyst, Former New England Patriots Safe...

Drew Bledsoe

Football Quarterback; Played 14 Seasons in the NFL; ...

Adam Vinatieri

American Football Placekicker for the Indianapolis C...

Bill Belichick

Head Football Coach for the New England Patriots

Brandon Allen

NFL Quarterback for the Denver Broncos

Jeremy Pruitt

Head Football Coach of Tennessee Volunteers

Renie Anderson

Chief Revenue Officer & Executive Vice President of ...

Eliah Drinkwitz

Head Football Coach of Missouri Tigers

Kirby Smart

Head Football Coach of Georgia Bulldogs

Clay Helton

Head Football Coach of USC Trojans

Skip Holtz

Head Football Coach of Louisiana Tech Bulldogs

Paul Chryst

Head Football Coach of Wisconsin Badgers

Jeff Brohm

Head Football Coach of Purdue Boilermakers

Ryan Day

Head Football Coach of Ohio State Buckeyes

Scott Frost

Head Football Coach of Nebraska Cornhuskers

P.J. Fleck

Head Football Coach of Minnesota Golden Gophers

Mel Tucker

Head Football Coach of Michigan State Spartans
More like Willie