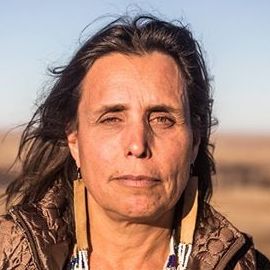 Winona LaDuke is an internationally renowned activist working on issues of sustainable development, renewable energy, and food systems. She lives and works on the White Earth reservation in northern Minnesota, and is a two time vice presidential candidate with Ralph Nader for the Green Party.
As Program Director of the Honor the Earth, she works nationally and internationally on the issues of climate change, renewable energy, and environmental justice with Indigenous communities. And in her own community, she is the founder of the White Earth Land Recovery Project, one of the largest reservation based non profit organizations in the country, and a leader in the issues of culturally based sustainable development strategies, renewable energy and food systems. In this work, she also continues national and international work to protect Indigenous plants and heritage foods from patenting and genetic engineering.
In 2007, LaDuke was inducted into the National Women's Hall of Fame, recognizing her leadership and community commitment. In 1994, LaDuke was nominated by Time magazine as one of America's fifty most promising leaders under forty years of age. She has been awarded the Thomas Merton Award in 1996, Ms.Woman of the Year (with the Indigo Girls in 1997) , and the Reebok Human Rights Award, with which in part she began the White Earth Land Recovery Project. The White Earth Land Recovery Project has won many awards- including the prestigious 2003 International Slow Food Award for Biodiversity, recognizing the organization's work to protect wild rice from patenting and genetic engineering.
A graduate of Harvard and Antioch Universities, she has written extensively on Native American and environmental issues. She is a former board member of Greenpeace USA and is presently an advisory board member for the Trust for Public Lands Native Lands Program as well as a board member of the Christensen Fund. The Author of five books, including Recovering the Sacred, All our Relations and a novel- Last Standing Woman, she is widely recognized for her work on environmental and human rights issues.
Videos
---
Speech Topics
---
Native American Rights
Native American women have a long history of protecting the environment and Mother Earth. In addition to being primary farmers, both historically and presently, Native American women are also the stewards of waters and other spiritual entities within their cultures.
Many of today's immediate and closest felt environmental struggles have indigenous women at the helm of conservation, restoration, and sustainability efforts. Whether protecting the land from PCB contamination, putting an end to genetic engineering and contamination of seeds, or stopping coal strip mines, Native American women have pushed to maintain the natural landscape of our country while changing its cultural landscape for the better.
In this keynote presentation, LaDuke explores the strength, dedication, and vigor of Native American women. Though they may have been marginalized by the dominant society, they have still found a voice. They work to move forward, continue intergenerational responsibility, and protect Mother Earth.
Principled Leadership Development
Economics for the Seventh Generation
Creating a Multi-Cultural Democracy: Religion, Culture & Identity in America
The Next Energy Economy: Grassroots Strategies to Mitigate Global Climate Change & How We Move Ahead
Seed Sovereignty: Who Owns the Seeds of the World, Bio-Piracy, Genetic Engineering & Indigenous Peoples
Related Speakers View all
---
Erin Brockovich

Consumer Advocate, Author, TV Host & Environmental A...

Xiuhtezcatl Martinez

Indigenous Climate Activist, Hip-Hop Artist, Author ...

Nikki Giovanni

Poet, Educator & Best-Selling Author

Angela Davis

Feminist, Social Activist, Professor & Writer

Rosa Clemente

Community Organizer, Journalist, Political Activist,...

Dolores Huerta

Co-Founder of the United Farm Workers of America; Fi...

Linda Sarsour

Award-Winning Racial Justice & Civil Rights Activist...

Ed Begley Jr.

Environmental Activist & Emmy Award-Nominated Actor

Cristina Jiménez Moreta

Ecuadoran Immigration Activist; Executive Director &...

Billy Mills

Second Native American to Win an Olympic Gold Medal ...

Van Jones

CEO of REFORM Alliance, CNN host, Emmy Award-winning...

Majora Carter

Real Estate Developer, Peabody Award-Winning Broadca...

Katharine Hayhoe

Atmospheric Scientist, Professor of Political Scienc...

Geena Rocero

Transgender Model & Advocate; Founder of Gender Proud

Alexandra Cousteau

Environmental Activist, Storyteller & Ocean Advocate

Julianne Malveaux

Author, Economist, Founder & Thought Leader Economic...

Vandana Shiva

World-Renowned Environmental Leader

Kate Brandt

Lead for Sustainability at Google & Former Chief Sus...

Josh Dorfman

Environmental Entrepreneur; Founder & CEO of Simbly

Shane Ortega

The US Army's First Openly Trans Soldier
More like Winona