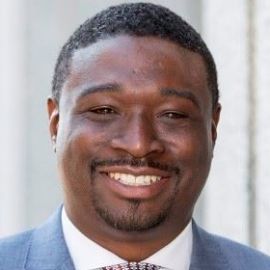 Wm. Jahmal Miller
Social Innovator; Health Equity Expert; Thought Leader; Policy Influencer; People Leader
Wm. Jahmal Miller is the Director of Corporate Reputation & Thought Leadership with San Francisco-based Blue Shield of California's External Affairs Division. He plays a major role in leading, creating and executing cutting-edge communication and engagement strategies and is charged with positioning the Blue Shield as a leader on health reform, achieving business goals and advancing the organization's mission to make healthcare accessible and affordable to all Californians. Miller is recognized as a national thought leader and leading spokesperson on issues pertaining to public policy, health equity, public & mental health, external affairs, social justice, innovation, branding and strategic communications.
Most recently, Miller served as the Deputy Director of the CA Department of Public Health's Office of Health Equity (OHE). Appointed by Gov. Jerry Brown in 2013, Miller was the State's lead advisor on issues related to reducing health disparities and achieving health equity for all Californians. With the unique distinction of being confirmed by the CA State Senate, he was responsible for leading the state's mission on health equity to promote equitable social, economic and environmental conditions.
Earlier in his career, he spent time at Kaiser Permanente as a Communications Manager, National Community Benefit and as a Community & Government Relations Manager. He also held multiple leadership roles with Sutter Health. Over the years his experience and passion have also garnered international exposure, as Miller has traveled twice to Cuba as part of American delegations to study the Cuban health system, culture and history.
Miller is a graduate of Columbia University in New York City, with a Bachelor of Arts(BA) degree in Psychology. He also holds a Master of Health Administration(MHA) degree from the University of Southern California. In May 2016, Western University of Health Sciences conferred an Honorary Doctorate in Humane Letters (DHL) to Miller.
Related Speakers View all
---
Karen DeSalvo

Chief Health Officer at Google, Former Assistant Sec...

Lucy Marcil

Co-Founder of StreetCred & Provider of Economic Mobi...

Nadine Hachach-Haram

Co-Founder Proximie, NHS Clinical Entrepreneur Fello...

David Williams

Professor of Public Health at Harvard University

Camara P. Jones

Expert on the Effects of Racism & Social Inequalitie...

David Ansell

Senior Vice President for Community Health Equity at...

Sarah Kliff

Health Policy Journalist & Senior Policy Corresponde...

Patrice A. Harris

First African-American Woman President of the Americ...

Rishi Manchanda

Physician, Public Health Innovator, President & CEO ...

Glen Tullman

Executive Chairman & Founder of Livongo Health

Susan Dentzer

President & Chief Executive Officer of the Network f...

Brian A. Primack, MD, PhD

Dean of the College of Education and Health at the U...

Len D'Avolio, PhD

CEO and Co-Founder, Cyft; Assistant Professor, Harva...

Raj Panjabi

Co-Founder & CEO of Last Mile Health, Assistant Prof...

Damon Tweedy

Author of "Black Man in a White Coat, A Doctor's Ref...

Peter Salgo

Healthcare Futurist, Emmy Award-Winning Health & Sci...

Shekinah Elmore

Oncologist; Dedicated to Pursuing Equity & Empathy i...

Megan Callahan

Vice President of Healthcare at Lyft

Rachel Haurwitz

President & CEO of Caribou Biosciences, Inc.

Fania Davis

Co-founder & Director of Restorative Justice for Oak...
More like Wm.