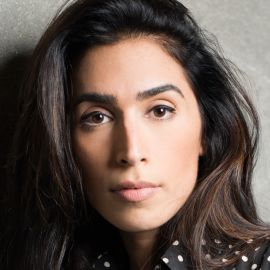 Yasmin Green is the Director of Research and Development for Jigsaw, a technology incubator within Alphabet Inc. focused on solving global security challenges through technology. She was previously Head of Strategy and Operations for Google Ideas, now Jigsaw.
At Google, Green served as Head of Sales Strategy and Operations for Southern Europe, Middle East, and Africa as well as Africa Operations Manager. Before joining Google, she consulted for Booz Allen Hamilton. Green has experience leading projects in some of the world's toughest environments, including Iran, Syria, UAE and Nigeria. In 2012, she led a multipartner coalition to launch Against Violent Extremism, the world's first online network of former violent extremists and survivors of terrorism. Based on her own interviews with ISIS defectors and jailed recruits, last year Green launched the Redirect Method, a new deployment of targeted advertising and video to confront online radicalization.
Green received her B.Sc. in Economics from University College London and her M.Sc. in Management from the London School of Economics and the University of Chicago Graduate School of Business. Green was also a member of the 1996 England Junior Women's National Basketball team.
Videos
---
Speech Topics
---
food
energy system change fuel audience grain cheap health care
social
spain region latin brazil america cultural crisis mexican state
portugal
india africa mobile forest technology regulation people understanding rural
Related Speakers View all
---
Rod Beckstrom

Silicon Valley Entrepreneur, Cybersecurity Expert & ...

Keren Elazari

Cyber Security Analyst, Author & Senior Researcher a...

Randi Zuckerberg

CEO & Founder of Zuckerberg Media; Bestselling Autho...

Ray Kurzweil

Chairman of Kurzweil Technologies; Inventor; Futurist

Larry Irving

Internet Pioneer, Technology Strategist & Futurist; ...

Peter Diamandis

Founder & Executive Chairman of the XPRIZE Foundatio...

Pablos Holman

Technology Futurist, Inventor, World-Renowned Hacker...

Kevin Mitnick

World's Most Famous Hacker, New York Times Bestselli...

Dr. Michio Kaku

World-Renowned Futurist & Theoretical Physicist

Nuala O'Connor

President & CEO of the Center for Democracy and Tech...

Alan Cohn

Co-Chair of Blockchain and Cryptocurrency Practice, ...

Joanne Martin

Former CISO of IBM, President of JLM Consulting, LLC

Viktor Mayer-Schönberger

Co-Author of "Big Data" and "Delete;" Expert on the ...

Cesar Kuriyama

Director, Producer & TED Speaker; Known for 1 Secon...

Dr. Heather Knight

Creative Inventor & Specialist in Human-Robot Intera...

Tom Patterson

Chief Trust Officer at Unisys & Author of "Mapping S...

Terry Jones

Digital Disruptor, Author & Venture Capitalist

Carly Fiorina

First Woman to Lead a Fortune Top 20 Company; Busine...

Shira Rubinoff

Cyber Security Executive and Advisor

Suzanne M. Vautrinot

President of Kilovolt Consulting Inc; Retired Major...
More like Yasmin