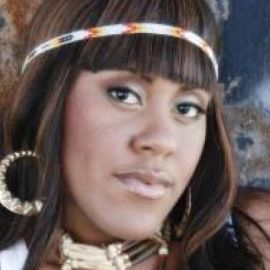 YoNasDa (Yo-Naja-Ha) LoneWolf, born during the American Indian Movement's Longest Walk in Washington, DC. She is Oglala Lakota and African American. Her late mother, a Lakota (Sioux) Wauneta Lonewolf was a renowned motivational speaker, substance abuse, gang prevention counselor and healer. Her father, who is African American, is a fine artist.
Queen YoNasDa is a living example of the saying "No Nation Can Rise Higher Than Its Woman". Currently, she is a National Community Organizer/Human Rights Activist and a motivational speaker. Being self-driven she is living her divine calling from her early beginnings in the entertainment industry as a rap artist and choreographer for BET'S own Teen Summit to her most recent work as an active activist and a voice against any injustice that affects people worldwide. She has used entertainment to bring awareness on the condition of oppressed people whether it's releasing two albums and touring with Wutang Clan or performing at the Annual Gathering of Nations Pow Wow and Festival she walks in many cultural paths.
Dig a Little deeper in to her resume and you will find that Queen YoNasDa was the brainchild behind #BMoreYouthRise and the National Stop the Killing rallies and marches after two of her friends were killed by police brutality. She organized cities from Phoenix, AZ to Baltimore, MD and was asked by the family of Mike Brown Jr in Ferguson, MO to speak at his 1-year anniversary. Which her electrifying speech made it on all international media platforms and she was featured in Elle Magazine (France) as one of the women in the Stopping Police Brutality Movement that is changing America. When YoNasDa Lonewolf is not protesting in the streets you can catch her speaking to college and high school students. She also was on the BET Rap it Up Tour, promoting sexual education.
Since 2006, she has directed entertainment panel discussions at various colleges and universities and at the annual Nation of Islam conference called Saviors Day with over 100,000 people. This truth-teller is a published writer who has a weekly column in the Final Call Newspaper and is now bringing her artistry to the world with a children's book called "The Adventures of Star Song" and a daily devotional book called "Journey 2 Peace". She is also filming a docu-series based on connecting the simirlarties of people from all walks of life. She started a cultural tour called ""Rez Tours"" which she opens cultural tours to Indigenous communities to learn more about the culture of Indigenous people. She has hosted a radio show on Chuck D Rapstation.com and Atlanta's Voice of the People radio.
In October 2015 she was a special guest on NYC Power 105's The Breakfast Club where she spoke on "Indigenous Peoples Day." From the huge response she was asked to be on The Breakfast Club again in October 2016. She spearheaded a 32 and a 64 cities fundraising events called Hip Hop 4 Haiti, and Hip Hop 4 Flint in 2016. YoNasDa was on the executive planning committee and co-convener for the 20th Anniversary of the Million Man March- Justice or Else!
YoNasDa Lonewolf is a woman with a purpose of promoting love, justice and equality.
Videos
---
Related Speakers View all
---
Amanda Lindhout

Executive Director of The Global Enrichment Foundati...

Nazanin Afshin-Jam

President & Co-Founder of Stop Child Executions; Fou...

Sherman Alexie

Poet, Short Story Writer, Novelist, and Performer

Ananya Grover

Founder of Reflections Magazine & Activist

Joseph Osuigwe Chidiebere

Anti-Human Trafficking Advocate, Social Entrepreneur...

Natasha Mwansa

Children's, Youth & Women's Rights Activist/Advocate...

Radhya Al-Mutawakel

Co-Founder & Chairperson of Mwatana Organisation for...

Megan Murphy

Founder The Kindness Rocks Project

Jerico Mandybur

Editorial Director, Girlboss

Sarah Sophie Flicker

National Organizer at Women's March & Creative Director

Barbara Smith

Founder of The Kitchen Press; Author & Activist

Kori Cioca

U.S. Coast Guard Veteran, Sexual Assault Survivor & ...

Tawakkol Karman

First Arab Woman to Win Nobel Peace Prize; Founder a...

Abigail Disney

Disney Heiress; Executive Film Producer; Anti-Gun & ...

Cynthia Germanotta

Co-Founder of the Born This Way Foundation with Daug...

Rebecca Walker

Bestselling Author & Founder of the Third Wave Femin...

Shohreh Aghdashloo

Academy Award-Nominated Actress & Women's Rights Act...

Regan de Loggans

Activist, Art Historian, Curator, Educator & Foundin...

Christen Brandt

Feminist, Activist, Author & Co-founder & Chief Prog...

Rabiaa El Garani

Human Rights Protector
More like YoNasDa