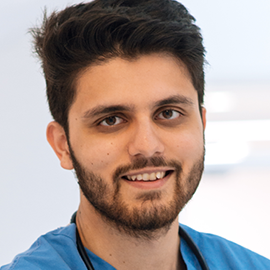 Yusuf Sherwani, a trained surgeon, is the CEO of Y Combinator graduate DigiThera, a digital health startup that he cofounded in 2016 with two friends and fellow doctors, Maroof Ahmed and Sarim Siddiqui.
After a family member died from smoking-related issues at a young age, Sherwani, a med school grad, realized that by helping smokers understand the circumstances that trigger their impulse to light up, they could be encouraged to make healthier decisions.
DigiThera's first product is mobile app Quit Genius, which uses a combination of personalized content and text message-based coaching to support smokers interested in quitting. To date, the app has attracted nearly 1 million users.
Sherwani was named one of Fast Company's Most Creative People of 2019 due to the Quit Genius's success. Now, he is partnering with the U.K.'s National Health Service and private employers to expand the app's reach.
Previously, Sherwani founded Unique Melody, a manufacturer of custom in-ear headphones. He also served as a clinical entrepreneur fellow with England's National Health Service.
Related Speakers View all
---
Cecilia Corral

Co-Founder & VP of Product at CareMessage

Erica Weirich

Founder, Global Health Research Foundation

Judith Mackay

International Tobacco Control Advocate; Director of ...

Neal Benowitz

Academic Physician & Professor Emeritus of Medicine ...

Hao Yan

Director of the Center for Molecular Design & Biomim...

Chris Gibson

Co- founder & CEO of Recursion Pharmaceuticals

Mark Sullivan

Founder & Managing Director of Medicines Development...

Carolyn Witte and Felicity Yost

Co-Founders of Tia

Dr. Flemming Ornskov

Chief Executive Officer, Shire

Dr. Lloyd Minor

Scientist, Surgeon & Academic Leader; Dean of the St...

Nadine Hachach-Haram

Co-Founder Proximie, NHS Clinical Entrepreneur Fello...

Kimberly O'Loughlin

Senior Vice-President & General Manager of Home Moni...

Adewale Troutman, MD, MPH, MA, CPH

President, American Public Health Association (APHA)...

Jack Choi

CEO of Anatomage, a company specializing on 3D medic...

Sean Lane

CEO, Olive AI

John Halamka

President, Mayo Clinic Platform

Adaora Okoli

Internal Medicine Resident, Tulane University

Jeffrey Kahn

Andreas C. Dracopoulos Director of the Johns Hopkins...

Priti Krishtel

Co-Founder & Co-Executive Director of I-MAK; Health ...

Adegoke Olubusi

Co-Founder & CEO of Helium Health, Forbes 30 Under 30
More like Yusuf