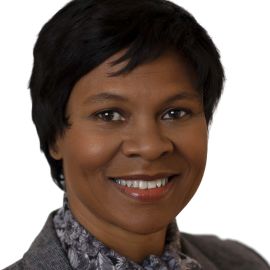 Dr. Yvonne Cagle is a NASA management astronaut, former U.S. Air Force Colonel, and family physician. Before becoming an astronaut, she served as Air Force Medical Liaison Officer for STS-30 mission to test the Magellan spacecraft in May 1989, while assigned as a commissioned medical officer to the 48th Tactical Hospital in the United Kingdom.
Dr. Cagle worked as a medical doctor at NASA's Occupational Health Clinic from 1994 to 1996. She was selected for astronaut training by NASA and assigned to the NASA/ARC as the lead ARC Astronaut Science Liaison and Strategic Relationships Manager for Google and other Silicon Valley Programmatic Partnerships in 2005. Cagle retired from the United States Air Force with the rank of Colonel in 2008.
Her groundbreaking work is preserving historic NASA space legacy data while simultaneously galvanizing NASA's initiatives in global mapping, sustainable energies, green initiatives, and disaster preparedness. Dr. Cagle was the advisor for the Commercial Reusable Suborbital Research Program (CRuSR). Previously, she served on faculty as the NASA liaison and VP for space exploration technologies with Singularity University based in Silicon Valley California. In 2013, she was selected as part of the reserve crew for Hawaii Space Exploration Analog and Simulation (HI-SEAS), which is part of a study for NASA to determine the best way to keep astronauts well-nourished during multiple-year missions to Mars or the moon.
Dr. Cagle has been awarded an honorary Ph.D. by Fordham University for her substantial and significant contributions to the fields of science, technology, and human health. She is also listed as an honorary member of the Danish Astronautical Society. In collaboration with NASA, she has historically held adjunct professorships with Stanford University, UC Davis, and UTMB, Galveston, and has been a visiting professor at Fordham University investigating mitigating neuro-cognitive countermeasures to optimize long-duration space crew behavioral health and performance. A TEDx Speaker in Brussels in 2012 and again in San Francisco in 2018, Dr. Cagle continues to advise on deep space neuro-behavioral research and polar analog simulations for NASA's exploration missions.
Dr. Cagle holds a bachelor's degree in biochemistry from San Francisco State University and a doctor of medicine degree from the University of Washington. She received a certificate in Aerospace Medicine from the School of Aerospace Medicine at Brooks Air Force Base, Texas, in 1988.
Speech Topics
---
Motivational/Life Coaching
Injury and Performance Arts and Community
Injury and Rehabilitation
Executive and Corporate Wellness
Related Speakers View all
---
Story Musgrave, M.D.

Retired NASA Astronaut; Physician & Professor at Art...

Olympia LePoint

Award-Winning Rocket Scientist, Self-Help Author & H...

Danielle Feinberg

Director of Photography at Pixar Animation Studios; ...

Emily Calandrelli

Aerospace Engineer; Host & Producer of FOX's "Xplora...

Aprille Ericsson-Jackson

Rocket Scientist; Technologist & STEM Educator

Peggy Whitson

NASA Astronaut; NASA's Most Experienced Female Astro...

Leland Melvin

Engineer, Former NASA Astronaut & Former NFL Wide Re...

J.R. Martinez

Actor, Best-Selling Author, Motivational Speaker, Ad...

José M. Hernández

Former NASA Astronaut & Engineer; Former Candidate f...

Cady Coleman

Former NASA Astronaut; Retired U.S. Air Force Office...

Garrett Reisman

Astronaut Garrett Reisman, PhD., Professor of Astron...

Kimberly Bryant

Founder & CEO of Black Girls CODE

Randi Zuckerberg

CEO & Founder of Zuckerberg Media; Bestselling Autho...

Joan Higginbotham

Electrical Engineer & Former NASA Astronaut; Third A...

Scott O'Grady

Former U.S. Air Force Captain, Fighter Pilot Who Sur...

Kara Swisher

Award-Winning Technology Business Journalist & Podca...

Dr. Bonnie Dunbar

Former President & CEO of the Museum of Flight; For...

Abigail Harrison

Founder of The Mars Generation, STEAM Advocate & Int...

Lisa Leslie

WNBA Champion, Olympic Gold Medalist & Author of "Do...

Sylvia Acevedo

CEO of Girl Scouts of the USA; Entrepreneur Addressi...
More like Yvonne