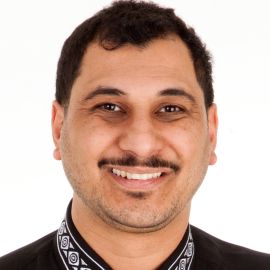 Zaahir Hendricks
Dr. Zaahir Hendricks, 'Dr. Z' has Been Helping Empower Students, Individuals and Corporate Teams Since 1996
Dr. Zaahir Hendricks, "Dr. Z" has been helping create a mindset for success for over 10 years. His programs offer tools to empower the audience, adjust their mindset, activate leadership and unlock the mental shackles that have been holding them back.
Dr Z-The Mindset Coach grew up in South Africa during the oppressive era of apartheid and learned first hand how this environment leads to an oppressive mindset which affects all aspects of life. Determined to prove how much mindset determines outcome he came to America by himself at age 19 and graduated with a Doctor of Chiropractic (D.C.) degree in 1996. Dr. Z's passion for understanding the power of "Mindset" has led him to expanding,continuing and sharing the results of his studies and experience so he can inspire others to reaching their full potential, fully empowered with a clearer vision, in all aspects of life.
Dr Z-The Mindset Coach is a sought after speaker at colleges, corporations, groups and associations who passionately shares his message around the country. He has been recognized by various media outlets as a successful businessman and community leader who helps change lives around him. His humor and laid back speaking style leads to energetic and interactive programs that leave students with the right tools to create a mindset for success in all aspects of their life.
Related Speakers View all
---
Candace Reese

The CEO Pundit: Empowerment Speaker, Inspirational C...

Tony Alessandra

Premier Communications Expert; Author of "The Platin...

Joseph Covelle

Speaking From the Heart To Help Change Minds

JP Pawliw-Fry

Co-Founder of the Institute for Health and Human Pot...

Liz Nead

Executive Business & Life Coach

Kyle Newman

Live and lead untamed and unafraid

Jean Bailey Robor

Jean Bailey Robor, award-winning author and inspirat...

Neal Petersen

History-Making Extreme Adventurer, Award-Winning Aut...

Roger Crawford

Hall of Fame Athlete; First & Only US Professional T...

Les Brown

Motivator, TV Personality & Best-Selling Author

Michelle Courtney Berry

NLP Master Coach & Practitioner for Health and Welln...

Ann Marie Mac Donald

Certified World Class Professional Speaking Coach, C...

Tonisha Pinckney

Empowerment Beyond Victimization - Author of I AM MO...

Charlie Alejandro

Motivational Speaker, Writer, Actress & Radio Talk S...

Lori La Bey

Driving Change How Caregiving is Perceived, Received...

Carey Lohrenz

First Female F-14 Fighter Pilot in the U.S. Navy, T...

Hypnotist The Incredible BORIS

Award-winning Motivational Hypnotist and Keynote Spe...

Grant D. Fairley

Inspirational Speaker and Teacher, Executive Coach &...

Mike Jaffe

9/11 Survivor; Human WakeUp Call

Don Yaeger

Award-Winning Leadership Coach & Best-Selling Author
More like Zaahir