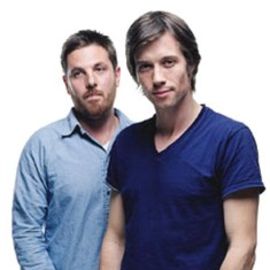 Zero 7
Zero 7 release Record on June 28 through Atlantic Records. A collection of Zero 7 favourites past and present.
Zero 7 release Record on June 28 through Atlantic Records. A collection of Zero 7 favourites past and present, the album also includes a disc of remixes- some previously issued, some brand new commissions- from luminaries such as Carl Craig, Metronomy, Photek, Joker and Madlib.
The tapestry of remixes included on Record is a fitting testimony to Zero 7's journey, providing a nod to the band's early beginnings when duo Henry Binns and Sam Hardaker worked at Mickie Most's RAK studios. This is where they kept the studio's visiting stars fed and lubricated whilst honing their production skills, anxious to satisfy their own creative pursuits. They soon set up a studio space in Swiss Cottage and bothered their old friend and Radiohead producer Nigel Godrich "incessantly" to let them have a crack at remixing one of the band's tracks, and the hauntingly dreamy rework of 'Climbing Up The Walls' was born. Following support from Gilles Peterson and various notable commissions, the band's reputation as remixers du jour began to gather pace.
In what has been a recurring theme in Zero 7's career, the band were quick to push down their own creative doors and began working on their own original material, putting out a self-released, sold-out EP. It was then that Zero 7 as we know them now begun to take true shape- singers Sia, Mozez and Sophie Barker brought new layers of soul to the duo's jazz-funk roots, resulting in 2001's million-selling, Mercury-nominated Simple Things. The album's runaway success meant the band once again faced a new challenge - how to deliver a live set. "We discussed the live thing and decided it's not something we do, this is a record that was made in the studio, not with a band sitting down playing," says Henry. "We decided we weren't gonna do that. Six months later it wasn't an option." Live debuts were duly forged at Barcelona's Sonar and, for their home turf, Shepherd's Bush Empire.
2004 saw the same line-up reunite for the sophomore When It Falls, adding fourth vocalist Tina Dico into the mix. The album included standout tracks such as 'Home' and 'Somersault', but the band felt in need of renewed inspiration. Henry had relocated to Glastonbury village and set up a studio there, so the pair began work on The Garden album. This time vocal duties were divided between old friend and collaborator Sia, and Swedish star José González. Despite, or perhaps because of, the bucolic setting, the album sounds more upbeat than its predecessor (see the peppy Throw It All Away or dreamy Futures for evidence); a reflection of Henry's "liberated feeling of moving somewhere else".
The Garden won Zero 7 a Grammy nomination in the US, and became their third consecutive gold-seller in the UK. Despite seemingly having found their groove, Sam in particular was hungry for a creative shake-up, and determined to seize the opportunity for change. They hit the road as Ingrid Eto, giving them a vehicle to experiment and try new ideas. The test run delivered tracks that surfaced on fourth album Yeah Ghost- the glitchy, broken electro funk of 'Ghost sYMbOL', the classic mellow Zero 7 sound of 'Swing' and the motivational message of 'Everything Up (Zizou)'. Dance-pop anthems 'Mr McGee' and 'Medicine Man' saw boxfresh talent Eska add a fizzing effervescence to the songs- "That's what you want from a collaboration, someone to take you somewhere completely different. It was really positive," says Sam.
Zero 7 have come an extraordinarily long way in four albums and one decade. Henry is still beavering away in his Glastonbury studio (in between "milking pigs", as devout Londoner Sam has it), while Sam has re-kitted and reopened the Swiss Cottage premises where it all began, the small space in which the huge, expansive Simple Things was made. While the duo ponder how next to squeeze the sound of a cast of thousands from its cramped confines, this Record is a timely reminder of how they did it first time round.
Videos
---