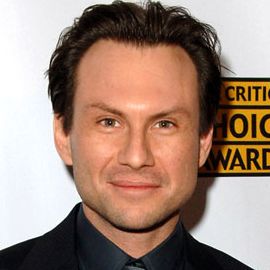 Christian Slater
Actor known for His Debut Film "The Legend of Billie Jean" and His Appearances in "Robin Hood" and "The Vampire Chronicles"
With an impressive career that spans the worlds of film, television and stage, Christian Slater has established himself as one of the most talented actors of his generation.
As an alum of the prestigious Dalton School and the Professional Children's School in New York City, Slater debuted on Broadway at the age of nine in "The Music Man," alongside Dick Van Dyke and went on to play the title lead in "Oliver." More recently, Slater has garnered critical acclaim for his starring role in the Broadway production of "Sideman." "Macbeth," "David Copperfield" and "Merlin" also number among his Broadway credits. Off-Broadway, Slater has been seen in such productions as "Landscape of the Body," "Between Daylight," "Boonville," "Dry Land" and "Somewhere's Better."
Making his film debut in 1985 in "The Legend of Billie Jean," Slater's extensive film credits prove his versatility to excel in various genres. As an action hero, Slater was seen in John Woo's "Windtalkers," opposite Nicolas Cage and "Broken Arrow" with John Travolta. Slater has also proven his ability to portray characters whose roles create a cult-following, such as his unforgettable performances as Clarence Worley in "True Romance," as Robert Boyd in "Very Bad Things" and as Jason Dean in Michael Lehmann's "Heathers." Other film credits include "The Contender," "Bed of Roses," "Murder in the First," "Interview with a Vampire," "Untamed Heart," "Pump Up the Volume," Jean-Jacques Annaud's "The Name of the Rose," Francis Ford Coppola's "Tucker: The Man and His Dream" and "Gleaming the Cube."
Slater's producing credits include "Basil" and "Hard Rain," both of which he also starred in. He also served as an executive producer on Peter Berg's "Very Bad Things." In 1996, Slater made his directorial debut with "Museum of Love," a short film for Showtime.
In 2002 and 2003, Slater made his mark on primetime television with two captivating guest star character arcs. On NBC's "The West Wing," Slater portrayed Lt. Comdr. Jack Reese. As Neil Caplan, a vulnerable scientist on ABC's "Alias," Slater found himself entangled with terrorists eager to exploit his intelligence.
In 2005, Slater was also seen starring in "Churchill: The Hollywood Years," opposite Neve Campbell. Slater also continued his theater success by starring in "The Glass Menagerie" on Broadway opposite Jessica Lange in the role of Tom. He was selected to replace another actor in the play a few weeks before opening and he quickly mastered the role and delivered a remarkable performance. He received an award for Favorite Featured Actor in a Broadway Play at the Broadway.com Audience Awards. The play ran from March 22 -- July 3, 2005.
In 2006, Slater starred opposite Anthony Hopkins in "Slipsteam," which Hopkins also wrote and directed. The film was screened at the 2007 Sundance Film Festival. Slater also starred in the film "He Was A Quiet Man" opposite William H. Macy and Elisha Cuthbert. The film was written and directed by Frank Cappello.
Also in 2006, Slater returned to London to reprise his critically acclaimed role as Randle P. McMurphy in the Really Useful Group's production of "One Flew Over the Cuckoo's Nest." It re-opened in March 2006 and ran through May 2006. The play, which previewed at the Edinburgh Festival, opened in London's West End on September 6, 2004 to rave reviews. The huge success of the play lead to two extensions, finally closing on January 22, 2005 after over 150 sold-out shows. Slater won a Whatsonstage Best Actor Award for his incredible performance. He also won the "Favorite Actor" award two years in a row at the Big Star Awards.
In 2007, Slater returned to London to star in the sold out play "Swimming With Sharks" directed by Wilson Milan. Slater portrayed producer Buddy Ackerman, the mastermind of a top studio's high-grossing, ultra-violent horror slate, and one of Hollywood's most powerful men. Slater also starred in the Weinstein Company film "Bobby," which was written and directed by Emilio Estevez. The film also stars Anthony Hopkins, Demi Moore, Sharon Stone and William H. Macy. The film is about the assassination of U.S. Senator Robert F. Kennedy, on June 6th, 1968, and centers around 22 people who were at the Ambassador Hotel when he was killed. Slater plays the hotel's catering and kitchen manager, where the assassination takes place.
In 2008, Slater starred in the NBC drama "My Own Worst Enemy" as a man with two lives and personalities
The same year, Slater appeared in "Dolan's Cadillac," based on the short story by Stephen King. Slater portrayed Jimmy Dolan, a mobster who murders the wife of Robinson, portrayed by Wes Bentley, to keep her from testifying against him. Robinson vows revenge for the murder.
Slater recently starred in series like "The Forgotton" and "Breaking In."
He is now set to star in the ABC drama "Mind Games."
Related Speakers View all
---
Stellan Skarsgard

Swedish Actor, Known for "Good Will Hunting", "Mamma...

Shia LaBeouf

Actor, Performance Artist & Filmmaker

Christian Bale

Academy Award Winner Actor Best Known for the "Dark ...

Sean Connery

Actor & Producer; Best Known for his James Bond port...

Simon Lovell

English Comedy Magician, Card Shark Actor and Con Man

Peter Berg

Writer, Director, Producer and Actor, FILM 45

Damian Lewis

British Actor, Best Known for His Role in Showtime's...

Robert De Niro

Actor; Co-Founder, Tribeca Productions

Tom Hardy

English Actor Known for "This Means War," "The Dark ...

Wes Bentley

Film Actor; "American Beauty," "The Hunger Games"; F...

Steven Spielberg

Oscar Award-Winning Filmmaker

Jeff Goldblum

Actor & Jazz Musician Known for Starring in the "Jur...

Al Pacino

Award-Winning Actor

T.R. Knight

Actor Known for his Role as Dr. George O'Malley on "...

Lucas Grabeel

Actor, Singer and Director; Known for the "High Scho...

Lily James

Actress, Best Known for "Downton Abbey" "Cinderella"...

Cheyenne Jackson

Star of Broadway and TV's "Glee" and "30 Rock"

Matt Dallas

American actor, best known for playing the title cha...

Matt Passmore

Matt Passmore is an Australian actor. He is known fo...

Bruno Gunn

Actor. The Hunger Games: Catching Fire -True Blood -...
More like Christian