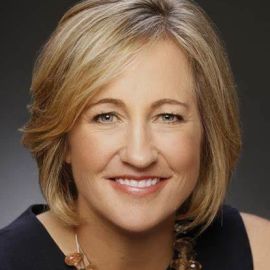 Dee Dee Myers
Former White House Press Secretary; Former Head of Corporate Communications & Public Affairs at Warner Brothers
Dee Dee Myers served as White House Press Secretary during President Bill Clinton's first term, the first woman to hold that job. She was the president's chief spokesman, managing day-to-day interactions with the media and providing strategic communications counsel to the president and his administration.
Myers served as the executive vice president of worldwide corporate communications and public affairs at Warner Brothers from September of 2014 to April of 2020. She previously served as the Managing Director at the Glover Park Group, one of the nation's fastest-growing and most respected communications companies. With years of experience in politics, policy, and media, she counsels corporate and non-profit clients on strategic communications, reputation management, and integrated marketing.
Myers continues to be a respected political analyst and commentator. From 1995 to 2014, Myers was a Contributing Editor to Vanity Fair, where she helped shape the magazine's coverage of politics. Her work has also appeared in numerous other publications, including The New York Times, Time, O, Oprah Magazine, the Washington Post, Politico, and the Los Angeles Times. She appears frequently on network and cable television, radio and internet programs and is a popular lecturer on politics, the media, and women's issues.
Her 2008 book, "Why Women Should Rule the World," became a New York Times best-seller. Combining the most up-to-date scientific studies with interviews, anecdotes, and personal experience, Myers makes a compelling case that women should serve alongside men at the highest levels of public life -- not because it's politically correct, but because it's in our self-interest. The book earned Myers an EMMA Award for Excellence and a Georgetown University Women's Leadership Initiative Award.
Myers was an original consultant for the highly-acclaimed NBC drama, "The West Wing." Throughout the show's long, prize-winning run, Myers worked with the writers, directors, producers, cast, and crew to shape stories, create the "look and feel" of the production and contribute to its overall sense of being accurate to real-life. Myers was recognized by the Academy of Television Arts & Sciences for her contributions.
Before joining the Clinton Administration, Myers worked on numerous political campaigns. She was National Press Secretary for the Clinton for President campaign in 1991-1992. She also worked on the presidential campaigns of Michael Dukakis and Walter Mondale, the California gubernatorial campaigns of Dianne Feinstein and Tom Bradley, and a number of local campaigns. She served as Deputy Press Secretary for Los Angeles Mayor Tom Bradley and as a district representative for California State Senator Art Torres.
Myers holds a bachelor's degree in political science and government from Santa Clara University.
Videos
---
Speech Topics
---
Inside the Beltway
Dee Dee Myers' experiences have spanned such historic events as the signing of the Mideast peace accords in 1993 to the passage of President Clinton's economic plan. Today, she continues to be a sought-after voice in the political arena, offering a robust perspective inside the beltway as she addresses the challenges facing the country, including healthcare, the economy, foreign policy, and more.
Why Women Should Rule the World
Reflecting on her own path-breaking career experiences, Dee Dee Myers surveys the issues facing women in Washington, as well as other leadership roles. She challenges audiences to imagine a not-too-distant future in which increasing numbers of women reach the top ranks of politics, business, science, and academia. Sharing moments from her tenure in the Clinton administration and her work as a political analyst, media commentator, and former consultant to NBC's "The West Wing," Myers assesses the crucial but long-ignored strengths that female leaders bring to the table. "Women tend to be better communicators, better listeners, better at forming consensus," Myers argues. She explains that in a highly competitive and increasingly fractious world, women possess the kind of critical problem-solving skills that are urgently needed to break down barriers, build understanding, and create the best conditions for peace.
In the Belly of the Beast
In a style that audiences have described as sharp, funny and unusually honest, Dee Dee Myers offers her unique perspective as the first woman and the second youngest Press Secretary in United States history.
Books
---
Related Speakers View all
---
Ellen Goodman

Pulitzer Prize-Winning Columnist, Author, Speaker & ...

Catherine Crier

Acclaimed Author, Former Judge, Award-Winning Journa...

Eleanor Clift

Author; Washington Correspondent & The Daily Beast C...

Donna Brazile

Veteran Political Strategist, Bestselling Author, Fo...

Barbara Boxer

Former Democratic Senator of California

Meghan McCain

Co-Host of "The View," Political Columnist, Author &...

Chelsea Handler

Comedian, TV Personality & Author

Nadine Strossen

Professor of Law; President, American Civil Libertie...

Andrea Mitchell

Award-Winning Chief Foreign Affairs Correspondent at...

Katty Kay

Anchor on BBC World News America; Co-Author of "Wome...

Laura Ingraham

Political Commentator, Television Host & Journalist

Margaret Carlson

Daily Beast Columnist

Gloria Borger

Award-Winning Chief Political Analyst & Columnist

Catherine Fiankan-Bokonga

Journalist & Consultant; Keynote Speaker; Expert in ...

Jodi Kantor

Pulitzer-Prize Winning Journalist & Author

Nina Easton

Chair of Fortune Most Powerful Women International; ...

Soraya Darabi

Renowned Digital Entrepreneur; Social Media Pioneer

Gloria Allred

Renowned Women's Rights Attorney; Subject of Netflix...

Maria Hinojosa

Award-Winning News and Investigative Journalist; Hos...

Rebecca Walker

Bestselling Author & Founder of the Third Wave Femin...
More like Dee