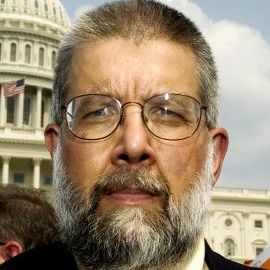 Michael Scheuer
Michael Scheuer is a 22-year CIA veteran. He served as the Chief of the Bin Laden Unit at the Counterterrorist Center from 1996 to 1999. He resigned from the CIA in 2004.
According to the Boston Phoenix and the Washington Times, Scheuer is the anonymous author responsible for Imperial Hubris: Why the West is Losing the War on Terror and the earlier anonymous work, Through Our Enemies' Eyes: Osama bin Laden, Radical Islam, and the Future of America.      
His most recent book, Imperial Hubris, a New York Times bestseller, has raised controversy over his assertions that the United States was attacked on September 11, 2001, and will continue to be attacked, because of the following: 1) the U.S. government supports Israel and is indifferent to Palestinians; 2) the presence of the U.S. and western troops on the Arabian Peninsula; 3) U.S. occupation of Iraq and Afghanistan; 4) the U.S. supports countries that oppress Muslims, such as Russia, India and China; 5) U.S. pressure on Arabs to keep oil prices low; and 6) U.S. support for tyrannical governments.
Videos
---
Related Speakers View all
---
Ron Paul

Political Speaker, Former United States Congressman ...

Richard Clarke

Cyber Security Expert, Former Counterterrorism Czar ...

Cofer Black

Director, CIA Counterterrorists Center (1999-2002), ...

Jillian Reid

Principal of Senior Responsible Investment, Mercer

Christopher Balding

Associate Professor at the Fulbright University Viet...

Walter Dolhare

Wells Fargo Executive Vice President and Co-head of ...

David Kahan

CEO of Birkenstocks America; Global Brand Expert

Jean-Christophe Taunay-Bucalo

Chief Commercial Officer at TravelPerk, a Business-O...

Tom Pritzker

Executive Chairman of Hyatt Hotels Corporation & Dir...

Mirjam Jasiak-Kim

Head of Enterprise Performance, Global Product Comme...

Maggie Hulce

Senior Vice President, Global Sales Strategy, Indeed

John Fox

Senior Director, Global Product Commercialization, I...

Jennifer Warren

Vice President, Global Brand Marketing, Indeed

Erik Stout

Director, Global Product Commercialization, Indeed

Danny Stacy

Recruitment Evangelist at Indeed

Daniel Wahlen

Senior Manager, Employer Insights, Indeed

Carl Jantzen

Senior Product Manager, Indeed Analytics, Indeed

Scott Kelly

COO & CTO of Hitachi Vantara

Alessandro Annoscia

Chief Disruption Officer, Parabolt

Wilmer Caripe

Head of Search, Assistant & Web Product Partnerships...
More like Michael