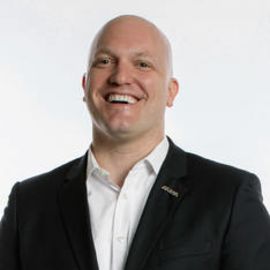 Paul Rieckhoff
Founder and Executive Director of Iraq and Afghanistan Veterans of America (IAVA); Author, "Chasing Ghosts: Failures and Facades in Iraq"
Paul Rieckhoff is founder and executive director of Iraq and Afghanistan Veterans of America (IAVA), America's first and largest organization for Iraq and Afghanistan veterans. Rieckhoff was among the first responders to the attack on the World Trade Center on September 11, 2001. From 2003 to 2004, he served as an Army first lieutenant and infantry rifle platoon leader in Iraq. A nationally recognized authority on the wars in Iraq and Afghanistan and a broad range of issues affecting troops, veterans, and their families, he has appeared on hundreds of television and radio programs. Most recently, Rieckhoff was on Rolling Stone's list of 12 Leaders Who Get Things Done. Rieckhoff has been honored with Common Ground's Celebrating Home Award and the Lewis Cullman Civic Engagement Award from GenerationEngage. Rieckhoff wrote the 2006 book Chasing Ghosts and frequently contributes to Huffington Post, Fortune, and The New York Times.
Related Speakers View all
---
Dan Ariely

Behavioral Economist; Professor at Duke University; ...

Neil Giuliano

Gay Rights Activist & President and CEO of Greater P...

Cody Adams

Managing Editor of The Floating University.

Jeffrey Israel

Jeffrey Israel has taught religion and political phi...

Peter Thiel

Former CEO and Co-founder of PayPal; Technology Entr...

Dan Glickman

Vice President of the Aspen Institute & Senior Fello...

Sir Richard Branson

Businessman, Founder of Virgin Group

Moby

Musician, DJ, Photographer

Virginia Postrel

Author & Columnist; Writes on The Intersection of Co...

An Phung

Multimedia Journalist

Brian Hoffstein

Contributing Writer

Shashi Tharoor

Diplomat & Author; Former United Nations Under-Secre...

Dr. Anthony Fauci

Director, National Institute of Allergy and Infectio...

Andrew Ross Sorkin

Financial Columnist for The New York Times & Co-Anch...

Calvin Trillin

Author, Columnist, Humorist & Political Satirist

Anna Deavere Smith

Award-Winning Actress, Playwright, Social Commentator

Robert Hormats

Vice Chairman of Kissinger Associates Inc.

David Life

Yoga Master; Co-Founder, Jivamukti Yoga

Marina Adshade

Author of "Dollars and Sex: How Economics Influences...

Seth Berkley

CEO of Gavi, the Vaccine Alliance; Medical Doctor Sp...
More like Paul