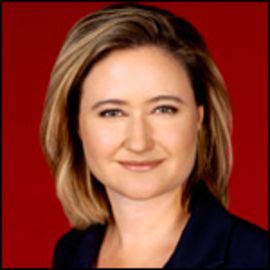 Rebecca MacKinnon is a leading voice on issues of privacy, free expression and governance (or lack of) in the digital networks, platforms and services on which we are all increasingly dependent. She is a Bernard L. Schwartz Senior Fellow at the New America Foundation, where she conducts research, writing and advocacy on global Internet policy, free expression, and the impact of digital technologies on human rights. She is author of "Consent of the Networked: The Worldwide Struggle for Internet Freedom" (Basic Books, January 2012). MacKinnon is also co-founder of Global Voices, an international citizen media network.
MacKinnon's 2011 TED Talk on the struggle for freedom and control in cyberspace was chosen by the Huffington Post and TED as one of 18 "groundbreaking ideas that will reshape the world in 2012." The Columbia Journalism School selected her as the graduate school's 2012 Hearst Professional-in-Residence in further recognition of her achievements. She has testified in Congress several times on matters related to global Internet freedom and U.S. policy, is quoted regularly by the world's most influential newspapers, and appears frequently as a commentator about Internet issues on radio and television.
Fluent in Mandarin Chinese, MacKinnon worked as a journalist for CNN in Beijing for nine years and was Beijing Bureau Chief and Correspondent from 1998-2001, then served as CNN's Tokyo Bureau Chief and Correspondent from 2001-03. From 2004-06 she was a Research Fellow at Harvard's Berkman Center for Internet and Society, where she began her ongoing research and writing about the Chinese Internet in addition to launching Global Voices with colleague Ethan Zuckerman. In 2007-08 she taught online journalism at the University of Hong Kong's Journalism and Media Studies Centre. In 2009 she conducted research and writing as an Open Society Fellow, and in the Spring of 2010 she was a Visiting Fellow at Princeton's Center or Information Technology Policy. She also serves on the Boards of Directors of the Committee to Protect Journalists and the Global Network Initiative, a multi-stakeholder organization dedicated to promoting and upholding respect for free expression and privacy in the Internet and telecommunications sectors.
MacKinnon received her AB magna cum laude from Harvard University and was a Fullbright scholar in Taiwan in 1991-92. She currently lives in Washington DC.
News
---
Who's messing with your Internet rights? And who'd tell you if they did?
This may be one of the central questions of this century, certainly for Americans. It goes to our core values. The First Amendment, freedom of speech. The Fourth Amendment — freedom from unreasonable search and seizure, including of our data. But in the face of threats, perceived or real, some people are willing to give up some of those freedoms, or argue that others should.