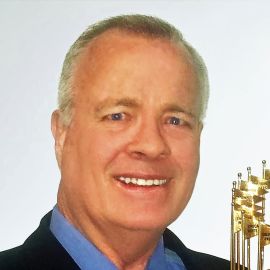 Ed Hearn was once best known for his spot on the 1986, World Series Champions, New York Mets roster. Today, Hearn is a dedicated father, author, and motivational speaker. He believes in, and has experienced, the power of courage, faith, and determination in the face of life's most difficult challenges.
Hearn played 13 years of Professional Baseball before his promising career came to a sudden end as the result of a severe shoulder injury. Three months after starting a new career, he was diagnosed with three potentially life threatening illnesses. He fought these conditions with strength and determination, surviving three kidney transplants and a battle with cancer.
Hearn has become one of this nation's most highly sought after motivational speakers. In 2001, he became the first professional Major League sports athlete from the United States to receive the prestigious Certified Speaking Profession designation from the National Speakers Association. As the author of "Conquering Life's Curves: Baseball, Battles, & Beyond", Hearn has appeared on hundreds of national radio and television programs including: The Oprah Winfrey Show, The 700 Club, and MSNBC.
Hearn resides in Shawnee, KS with his wife, Trish, and their son, Cody. Hearn is very active in various community activities as well as his church and spends countless hours of his time with the youth of Kansas City. In his spare time, he enjoys hunting, fishing, and golf. All proceeds from Ed's book sales and speaking go directly to support the goals and vision of The Bottom of the Ninth, a Kansas based non-profit founded by Hearn that is dedicated to rebuilding the spirit and character of this nation.
Videos
---
Related Speakers View all
---
Vince Poscente

Former Olympic Speed Skier, Leadership & Sales Exper...

Vince Papale

Former NFL Player & Inspiration for the Movie "Invin...

Michael C. Anthony

Bestselling Author, Body Language Expert & Kidney Di...

Steve Sax

Five-Time MLB All-Star & Mental Health Advocate

Dan Clark

Master Motivator, CEO, New York Times Bestseller & M...

John Cassis

Former Professional Baseball Player for MLB's Califo...

John Amatt

Mountaineer, Founder & President of One Step Beyond ...

Jim Abbott

Former One-Handed Major League Baseball Pitcher

Lori Hartwell

Author, Advocate, Founder of The Renal Support Netwo...

Heath Calhoun

Alpine Skier & Veteran of the United States Army

James Golding

Two-Time Cancer Survivor; Fundraising Cyclist

Dave deBronkart

Kidney Cancer Survivor & Patient Advocate Known as "...

JP Pawliw-Fry

Co-Founder of the Institute for Health and Human Pot...

Blaise Winter

Blaise Winter is living proof of the POWER OF MIND A...

Don Yaeger

Award-Winning Leadership Coach & Best-Selling Author

Michael McKinley

Expert in Management Performance

Scott MacIntyre

Blind American Idol Finalist, Author & Transplant Re...

Josh Hamilton

Former Outfielder for the Texas Rangers; 5-Time MLB ...

Afterburner

US Fighter Pilots & Team-Building Experts

Ethan Zohn

Winner of "Survivor" Africa, 2x Cancer Survivor, Ste...
More like Ed