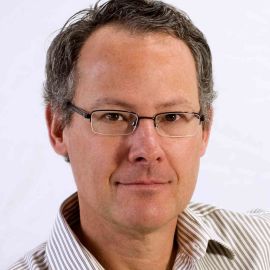 Nicholas Carr
Author of "The Big Switch" & "The Shallows"; Expert on the Intersection of Technology, Culture & the Future
A former executive editor of the Harvard Business Review, Nicholas Carr writes and speaks on technology, business, and culture. His intriguing 2003 Harvard Business Review article "IT Doesn't Matter," was an instant sensation, setting the stage for the global debate on the strategic value of information technology in business. His 2004 book, Does IT Matter? : Information Technology and the Corrosion of Competitive Advantage, published by Harvard Business School Press, was a bestseller and kept the worldwide business community discussing the role of computers and IT in business. His 2008 book, The Big Switch: Rewiring the World, from Edison to Google, examines the future of computing and its implications for business and society. The Wall Street Journal says The Big Switch is "destined to influence CEOs and the boards and investors that support them as companies grapple with the constant change of the digital age."
A prolific and nimble thought leader, Mr Carr has written more than a dozen articles and interviews for Harvard Business Review and writes regularly for the Financial Times, Strategy & Business and The Guardian. His articles have also appeared in the New York Times, MIT Sloan Management Review, Wired, Business 2.0, Boston Globe, Industry Standard, The Banker, Director, BusinessWeek Online as well as in his popular blog, Rough Type. He also edited The Digital Enterprise, a book of HBR writings on the Internet. Nick's book, The Shallows: What the Internet is Doing to Our Brains, examines the intellectual and social consequences of the Internet. It has received unprecedented international acclaim and has been reviewed in all major news publications. His latest book, Utopia Is Creepy, published in 2016, collects his best essays, blog posts, and other writings from the past dozen years. The collection is "by turns wry and revelatory," wrote Discover.
Mr Carr has served as a commentator on CNBC, CNN, and other networks and has been a featured speaker worldwide at industry, educational, and government forums. In Spring 2008 CIO Insight named Carr's Does IT Matter?, one of the all-time "Top 15 Most Groundbreaking Management Books" and Ziff Davis included him as one of only a handful of IT management thought leaders on their "100 Most Influential People in IT" list. In 2007 eWeek named him one of the 100 most influential people in IT and in 2005, Optimize magazine named Carr one of the leading thinkers on information technology. Earlier in his career, Carr was a principal at Mercer Management Consulting. He holds a B.A. from Dartmouth College and an M.A., in English literature, from Harvard University.
Carr has written for The Atlantic, the Wall Street Journal, the New York Times, Wired, Nature, MIT Technology Review, and many other periodicals. His essays, including "Is Google Making Us Stupid?" and "The Great Forgetting," have been collected in several anthologies, including The Best American Science and Nature Writing, The Best Spiritual Writing, and The Best Technology Writing. In 2015, he received the Neil Postman Award for Career Achievement in Public Intellectual Activity from the Media Ecology Association.
Videos
---
Speech Topics
---
Is Google Making Us Stupid?
Nicholas Carr examines how digital media influences the ways people think, read and interact.
Referencing media theorist Marshall McLuhan, Carr pointed out, media are not just passive channels of information. They supply the stuff of thought, but they also shape the process of thought. If the Web is shaping thought processes, what are people gaining? What are they losing? As people and society become increasingly dependent on the Web, how are they changing?
Related Speakers View all
---
Ray Kurzweil

Chairman of Kurzweil Technologies; Inventor; Futurist

Clay Shirky

Expert on New Technology & Social Media, & How They ...

Josh Linkner

Best-Selling Author; World-Class Entrepreneur; Found...

Dan Ariely

Behavioral Economist; Professor at Duke University; ...

Jason Silva

Emmy-nominated TV Personality; Futurist; Host of Nat...

Daniel Burrus

Technology Futurist, Business Strategist & Hall of F...

Peter Diamandis

Founder & Executive Chairman of the XPRIZE Foundatio...

Andrew McAfee

Co-Founder & Co-Director of Initiative on the Digita...

David Pogue

Host of NOVA ScienceNow & Yahoo Tech Columnist

Peter Thiel

Former CEO and Co-founder of PayPal; Technology Entr...

Dean Kamen

Inventor and Entrepreneur; President, DEKA Research ...

Luke Williams

Bestselling Author, Professor of Business at NYU

Gary Vaynerchuk

Co-Founder & CEO of VaynerMedia

Richard Florida

Renowned Economist & Author of "The Rise of the Crea...

Virginia Postrel

Author & Columnist; Writes on The Intersection of Co...

Parag Khanna

Leading Geo-Strategist & Author

Dr. Michio Kaku

World-Renowned Futurist & Theoretical Physicist

Gary Hamel

Internationally Renowned Expert on Business Strategy...

Jim Carroll

One of the World's Leading Global Futurists, Trends ...

Randi Zuckerberg

CEO & Founder of Zuckerberg Media, Author
More like Nicholas