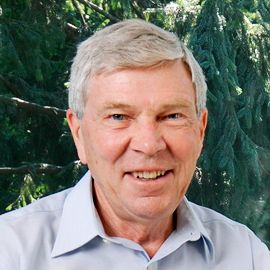 James M. McPherson is one of the nation's most renowned historians of the American Civil War era. His award-winning career has spanned four decades, and includes such highly prestigious honors as Pulitzer Prize, two Lincoln Prizes, the NEH's Jefferson Lectureship in the Humanities, and a term as the president of the American Historical Association.
McPherson is George Henry Davis '86 Professor of American History emeritus at Princeton University, where he has taught since 1962. He received his PhD in 1963 from Johns Hopkins University, where he studied with C. Vann Woodward.
He has written more than 15 books and edited another dozen, mostly on the era of the American Civil War and Reconstruction, including Battle Cry Freedom: The Civil War Era, which won the Pulitzer Prize in History in 1989. The Washington Post, much like many other reviewers, hailed it as the "finest single volume on the war and its background."
He is also the author of numerous other acclaimed books, including the New York Times best-seller Crossroads of Freedom, Abraham Lincoln and the Second American Revolution, and For Cause and Comrades: Why Men Fought in the Civil War.
Scanning the social, military, economic, and political events that became entwined in the events of the Civil War, McPherson shares with audiences a riveting, thoroughly researched account of this momentous time in American history. His masterful, instructive tour of the politics, personalities, and campaigns that defined the War Between the States will inform and enlighten, as will his insights into how what happened over 150 years ago -- the "second American Revolution" -- still impacts the American landscape today.
Videos
---
Related Speakers View all
---
Samuel W. Mitcham, Jr.

Author & Historian

Sven Beckert

Laird Bell Professor of History at Harvard Universit...

Steve Coll

Former President & CEO of New America Foundation; Pu...

Gerald Vizenor

Distinguished Professor of American Studies at the U...

Deborah E. Lipstadt

Professor of Modern Jewish & Holocaust Studies at Em...

David M. Kennedy

Pulitzer Prize-Winning Historian

Julian E. Zelizer

CNN Political Analyst, Professor of History & Public...

David McCullough

Historian and Bestselling Author

Carl Bernstein

Pulitzer Prize-Winning Journalist, Author & Politica...

Dr. Brent D. Glass

Director Emeritus, National Museum of American Histo...

H.W. Brands

Educator, Author & Historian

Fredrik Logevall

Pulitzer Prize Winning Author of "Embers of War" and...

David Blight

Professor of American History, Yale University; Dire...

Professor Richard Dawkins

English Ethologist, Evolutionary Biologist, Charles ...

Sean Wilentz

Professor of History at Princeton University With An...

Calvin Trillin

Author, Columnist, Humorist & Political Satirist

Story Musgrave, M.D.

Retired NASA Astronaut; Physician & Professor at Art...

Brad Meltzer

Host of History Channel's "Lost History" & "Brad Mel...

Amy Goodman

Host & Executive Producer, Democracy Now!

Linda Darling-Hammond

CEO of the Learning Policy Institute & Founder of th...
More like James