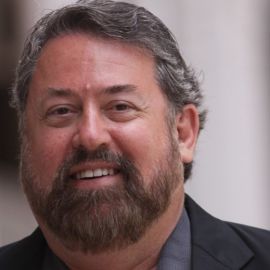 Mark Anderson is the CEO of the Strategic News Service® (SNS), www.stratnews.com. SNS was the first subscription-based newsletter on the Internet, and is read by Bill Gates, Michael Dell, Mark Hurd, and industry leaders and investors in computing and communications worldwide. Mark is the founding chair of the Future in Review® (FiRe) Conference, which the Economist has labeled "the best technology conference in the world," as well as of SNS Project Inkwell, the first global consortium to address technology design changes for one-to-one computing in classrooms. He is the founder of two software companies, a hedge fund, and the Washington Technology Industry Association "Fast Pitch" investment forum, Washington's premier technology investment conference.
Best-known for his accurate forecasts of important technology market shifts, Mark was the first to predict the global liquidity collapse, on TV on CNBC Europe, in March 2007, in London. He correctly predicted Steve Jobs' return to Apple before Steve was aware of it, as well as the future popularity of the "CarryAlong" format, now the fastest-growing computer category, represented by iPads and Netbooks. His 10-year, publicly graded accuracy rate is over 94%.
On the morning of 9.11, Mark was in a meeting with 30 senators, arguing for a new national broadband policy. By October 2001, he had assembled an SNS "Project Intelligent Response" booklet and hand-delivered it to key members of the Senate and Administration in the face of the 2001 anthrax attacks, providing the first structured effort by the technology community to fight terrorism.
Mark's well-known term "AORTA" (Always On RealTime Access) became the name of Europe's first broadband wired network. His interest in theoretical physics led to a paper on Resonance Theory, submitted in 1979, which was the first to describe a version of String Theory as a Theory of Everything.
Mark is a member of the UCSD Calit2 Laboratory advisory board and serves as advisor to OVP Venture Partners, Crowd Trust, and the mPedigree Network. He was selected by Fortune as one of the "100 Smartest People We Know." When Michael Dell resumed control of his company, he hired Mark to review Dell operations and prospects and to suggest future actions to the management team. Mark has provided board-level strategic advice for Orange, T-Mobile, Cap Gemini, Symantec, Hewlett-Packard, and other leading global technology firms.
Mark regularly appears on BBC World News, BloombergTV, CNBC, and National Public Radio, and in the Wall Street Journal, the Financial Times, and the New York Times. He recently spoke throughout China as a guest of the U.S. Embassy. In addition, he is the founder and chair of Orca Relief Citizens' Alliance, created to reduce resident killer-whale mortality rates in the Puget Sound. And as the founder and current chair of the IP Protection Alliance, Mark has been working with top global technology firms and government agencies in the U.S., Europe, Canada, and Australia to halt nation-sponsored theft (and forced disclosure) of crown-jewel IP.
Mark is a frequently sought speaker at corporate meetings and conferences around the world, and he provides top-level strategic reviews for management teams. Clients include companies and countries interested in software, computer, and telecoms growth: Microsoft, Hewlett-Packard, Dell, Symantec, T-Mobile, Warburg Pincus, Orange Communications, and the Free State of Saxony, among others. He has received the expressed gratitude of the Swedish and Icelandic governments for helping accelerate the deployment of wireless broadband in both countries, and he is a member of the Australian American Leadership Dialogue.
Videos
---
News
---
Tech Guru Mark Anderson's Top 10 Predictions For 2013
One of the hallmarks of the Strategic News Service, the always fascinating tech newsletter published by Mark Anderson, are the predictions. Right at the top of every issue the publication says it is "the most accurate predictive letter in computing and telecommunications, read by industry leaders worldwide."..
Related Speakers View all
---
Alex Salkever

Futurist, Author of "The Driver in the Driverless Ca...

Jordan Goldman

Named "One of the top young entrepreneurs in America...

Leah H. Jamieson

Dean of Engineering, Purdue University Board Directo...

Christiane zu Salm

Member of the Board Hubert Burda Media.

Neil Young

Canadian Singer-Songwriter and Musician

Stan Williams

Senior Fellow and Director, Information Quantum Syst...

Linton Wells, II

Founder of Tides Project & Distinguished Research Pr...

Daniel Wallach

Executive Director Greensburg GreenTown.

Gregory Waldorf

Chief Executive Officer eHarmony.

Paul Thelen

Founder, Chairman and Chief Strategy Officer Big Fis...

Alexander Straub

Chief Executive Officer PIXSTA

Quincy Smith

Chief Executive Officer CBS Interactive.

Neville Roy Singham

Founder and Chairman ThoughtWorks, Inc.

Marc Singer

Marc Singer Director, San Francisco Office McKinsey ...

David Siminoff

General Partner Venrock.

Richard Siklos

Editor at Large FORTUNE

Dan Shine

Vice President, 50x15 Initiative President, 50x15 Fo...

Adam Selipsky

Vice President, Product Management and Developer Rel...

Mark Rolston

Chief Creative Officer frogdesign, inc.

Steve Rechtschaffner

Chief Creative Officer, Humanature Studios NEXON Pub...
More like Mark