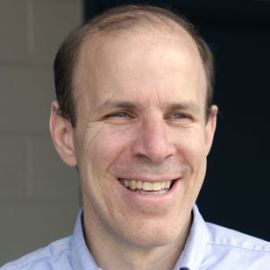 Mark Bergel, Ph.D.
A New View of Health: Understanding the Mind-Body-Spirit Connection
Mark Bergel, Ph.D., is a gifted teacher and social scientist who is emerging as a leader of thought in the areas of health and social change. Dr. Bergel has extensive experience speaking on stress management, wellness, the mind-body connection, and individual and societal change. He developed his expertise through an intensive inquiry into diverse disciplines ranging from physics, biology, and psychology to business, education, and medicine. His work has traced the trends and changes that mark a shift from a fragmented view of life to one of connection. Although many great thinkers have traced this shift within a specific discipline, Dr. Bergel's work is unique in that he has synthesized this critical reflection across the disciplines, creating a clear connection and translation to living a meaningful life and "whole" life. Dr. Bergel is also the Executive Director of the Center for Health and Human Connection, a non-profit organization bringing a variety of health and wellness programs and services free of charge to those in need. Dr. Bergel's message is always well received and his humor and home-hitting style make him a favorite among audiences.
Speech Topics
---
The Ten Leading Causes of Life in America
In this presentation, Dr. Bergel discusses the top ten causes of life, leaving audiences with a new appreciation and understanding of what truly brings about health, on an individual and societal level. Based on extensive research and experience in health and societal trends, he describes the fundamental differences between focusing on death and disease versus health, and what it means to live well. Laughter, connection, and eight other "causes of life" are vital to the human experience and are addressed in this program.
Becoming the Change
In this presentation, Dr. Bergel discusses how the most effective, and perhaps the only, way to see change in society is to change oneself. He describes the need to understand that the key to the universe is not "out there" somewhere, but inside each of us. Dr. Bergel will show how concepts such as metaphor, paradox, simplicity, interconnectedness, and having a childlike perspective need to be understood and internalized in order to "become the change" needed in our world. Then, one by one, the human experience will become richer and broader than most have ever imaged.
The Real World: It's Not What You Think It Is
In this presentation, Dr. Bergel will relate that we live in a time where what we have known about life and about our own existence is only a small part of the story. He will describe research that has revealed that "what you see depends on how you look at it." Your early experiences, social conditioning and opinion of yourself determine "what you see" as you live in the world each day. He will describe the need to suspend judgment and even your "knowledge" of how life exits, and to come to the human experience with no limitations. What's more, you will leave the presentation understanding fully what it means to create your own reality.
The Rise and Fall of Alternative Medicine
Dr. Bergel discusses the history of alternative medicine in the U.S. and then explains what is involved in many of the modalities currently viewed as alternative. From acupuncture to chiropractic to yoga, he will address the theories and practices of a variety of alternative therapies, showing how each represents the wholeness that is at the root of health. He concludes with a discussion of why the merging of alternative and conventional approaches is the beginning of the end of alternative medicine, but the advent of an exciting age in health and medicine—one in which people will have more choices, and possible solutions, than ever before.
Our Search for Wholeness: Wellness, Alternative Medicine, and the Mind-Body Connection
In this presentation, Dr. Bergel discusses how each of these trends is simply a metaphor for the larger movement in our society today—the movement of a holistic view of life. He relates that there is no such thing as holistic health; rather, to be healthy is to be whole. Further, the search for wholeness occurring today has broken down the barriers between conventional and alternative—Eastern and Western—and traditional and progressive. Dr. Bergel examines how we got such a fragmented view of ourselves and of life in the first place and shows how we are coming back together in the new century.
The Simplicity of Health
Dr. Bergel explains in this program how advanced work in health and science has revealed the importance of the most fundamental aspects of life. In a world where we are inundated with information and spend millions of dollars seeking health solutions from pills, potions, and gadgets, it is by returning to the basics that health can be found. The answers are inherently within and are the simplest, most basic concepts of our existence.
Science and Spirituality: The Evolution to Love
In this program, Dr. Bergel examines developments in quantum physics and other sciences, discussing why they have mandated that we change our view of our world and ourselves. Addressing these areas in terms that can be easily understood by a wide audience, he draws comparisons to our scientific proofs and our spiritual beliefs, illustrating how these two seemingly opposite perspectives are pointing us in the same direction.
A New View of Health: The Mind-Body-Spirit Connection
In this presentation, Dr. Bergel will answer these and many more questions in a unique examination of the connection among the mind, body, and spirit. Weaving hard research with humorous storytelling, Dr. Bergel provides clear insight as to how healing occurs in the human being. He also discusses why some scientists believe that the mind is everywhere, and how any discussion of a mind-body connection is incomplete without a discussion of the human spirit and the role of spirituality in health and healing.
Sit Still and Be Quiet: Lessons From Within
Dr. Bergel explains that of all the great advice on health that can be found today, it is the simple notion of sitting still and being quiet that may be most significant. For it is by taking the time to just be that we can connect to not only the source of health and healing, but to our true selves—to our passions and to what gives our life meaning.