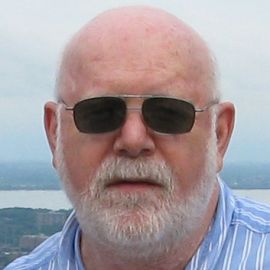 Alastair Sweeny is a business historian and futurist based in Ottawa, Canada.
In his recent books on the BlackBerry and oilsands energy, Alastair Sweeny looks at how technology is impacting our lives today and in the future.
In ''Black Bonanza'', he argues that the trillion barrels of oil available in Canada's oilsands will let us survive the coming peak oil crunch, avoid sending billions to dictatorial regimes and buy us time to make the "blue shift" toward a sustainable energy future.
In ''BlackBerry Planet'', he talls the fascinating story of Research in Motion and how Mike Lazaridis developed the first practical mobile messenger. In his chapter, "The Rise of the TeleBrain", he shows us what is coming down the pipe in the world of mobile technology.
Alastair is currently writing ''WebWorld'', a book on the creation and development of the World Wide Web, and where it is taking us.
Contact Alastair to discuss how he can tailor the talk to meet your speaker needs.
Videos
---
Related Speakers View all
---
Jim Brazell

Technology Forecaster, Venture Accelerator, STEM Adv...

Jon Bergmann

Pioneer of the Flipped Class Movement & Bestselling ...

Claudiu Popa

Data Protection Evangelist. Trusted Risk Advisor. Re...

Peter Hinssen

Cloud Computing & Technology Expert, Thought Leader ...

Mark Lucente

Inventor of holographic video

Ariel Coro

Technology Expert, Author & Columnist; Founder of Te...

Mitt Romney

Former Governor of Massachusetts, 2012 Republican Pr...

Jim Carroll

One of the World's Leading Global Futurists, Trends ...

Carina Hirsch

Policy Officer,World Farmers' Organisation

Elliott Masie

Technology & Learning Futurist

Rick Tumlinson

One of the World's Top Space Visionaries; Founder of...

Mac Curfman

...because the work is hard!

Saul Farber

Extreme Leadership

Roberto Alas

Reaching and identifying the potential in every sing...

Thor Muller

Internet Entrepreneur

Sebastian Thrun

Scientist, Educator, Inventor & Entrepreneur

Barbara Rozgonyi

Elevating Events with Creativity and Innovation via ...

Alex Banayan

Author & World's Youngest Venture Capitalist

Jesse Miller

Topics focus on Social Media Awareness & Education, ...

Keisha Owens

Accessible technology, performance improvement, moti...
More like Alastair