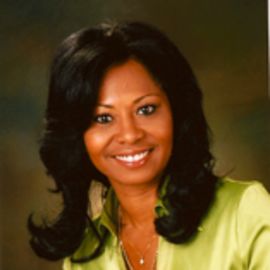 Deanna Brown is a radio & TV personality, actress, entrepreneur, humanitarian and daughter of Mr. James Brown-The Godfather of Soul. Early in life Brown learned the music industry by working with her dad and thru her own career as a broadcaster and entrepreneur. In 1994, her father named her Executive Vice-President of James Brown Enterprises. A career in broadcasting prompted her dad to return to ownership and bought two radio stations, WERD in Atlanta, GA and WAAW in Augusta, GA which Brown was Program Director and On Air Personality. Communications is a passion for Deanna as she has worked for other major broadcasting companies, Clear Channel, Radio One and CBS Affiliate WRDW. Brown also made her acting debut on "New York Undercover" and "Blues Brothers 2000."
As an entrepreneur, Brown is the co-owner of T&T Transportation, Val-U Furniture and DeShawn's Seafood. Brown gives much pride in having the opportunity to offer transportation services to clients of the State of Georgia like senior citizens, special needs persons and clients of the Department of Family and Children Services. Even in business, Brown believes in servicing the needs of the community and helping those who are unable to help themselves.
As a humanitarian, Brown has worked extensively with her church, Carpentersville Baptist Church where she is a Trustee and a member of the Christian Education Ministry. She works closely with the Richmond County Health Department in Augusta, GA with many HIV/AIDES awareness events, youth centers and children shelters encouraging youth to stay in school and always be willing to get an education. Brown is also a member of Alpha Kappa Alpha Sorority Inc. participating in many charitable fundraisers for youth development and serves on the Board of Directors for the Augusta Museum of History where she helped create the first museum exhibit on her dad.
In addition to her many key positions, after the passing of her father in 2006, Brown picked up the reigns of her father's good will and continued his legacy of giving thru The Brown Family Childrens Foundation, a 501(c)(3) non-profit organization that supports creating music scholarships and programs for students and schools who have a interest in learning music and the music industry; provide health awareness to impoverished families; and continue to support The Annual James Brown Turkey and Toy Giveaways, www.jamesbrownfamilyfdn.org. Brown has many positions but the two she holds dearest is mother and wife. She believes in the family unit being strong and encouraging to one another.