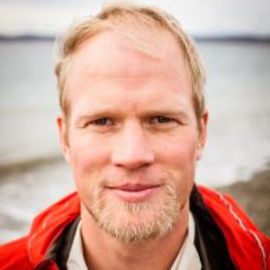 Adam Kreek is a four-time World Champion, Olympic Gold Medalist, Entrepreneur, and High-Performance Expert.
A self-described "positive realist," Adam has used his Olympic experience to become one of North America's top Management Consultants and Executive Coaches. With degrees and certifications from Stanford University, UBC Sauder School of Business, and Queens Smith School of Business, he has become a guest lecturer at the University of Victoria and teaches the strategies and skills of leadership, high performance and perseverance to corporate and government teams globally through keynotes, workshops, and online seminars.
Adam has coached, trained and taught hundreds of thousands of people including teams at Microsoft, General Electric, Mercedes-Benz, L'Oreal, Shell, YPO, EO, TEDx, but most importantly, Adam walks the talk. Kreek runs two small corporations – KreekSpeak Business Solutions and Ergo Eco Solutions, a low carbon initiative that connects small businesses with small governments.
During his 13-year rowing career, Adam won over 60 medals, 27 in international competition, with 43 of these being gold medal or first place performances. After his Gold medal performance at the Beijing 2008 Olympics, Adam and his teammates were inducted into the BC Sports Hall of Fame and voted runner up as Canada's top team of the year.
Adam is also an Athlete Ambassador for Right to Play, a non-profit organization that uses play to rehabilitate youth in war-torn regions of the world, and a Big Brother, with Big Brothers and Big Sisters. As a board member of the organization Clean Air Champions, Adam speaks to youth across Canada about the connection and importance of taking care of human and environmental health. Adam is also a Play It Cool Athlete Representative with the David Suzuki Foundation and The Climate Project Canada.
As an elected member of the Canadian Olympic Committee (COC), Adam represents the viewpoints of fellow and upcoming Olympic athletes. He also co-hosted the launch of the 2010 Olympic Torch Relay on CBC, with Ian Hanomansing from Victoria and is a lead athlete with Gold Medal Plates, a key organization raising funds for Olympic athletes in Canada.
Speech Topics
---
Shared Leadership: Lessons In Effective Teamwork
Adam Kreek shares his philosophy of Shared Leadership and answers the question: How can we create teams full of leaders to maximize group potential and resilience? Successful teams are filled with leaders. Kreek explores ways of fostering impactful leadership in competitive team environments. From 2001 to 2008, his team lost and won publicly on the world stage, learning powerful lessons in the process. Kreek shares a spectrum of tools and techniques gained from personal experience and his lifelong study of high performance.
Managing Change for Success
Adam Kreek empowers individuals and teams to accept, embrace, and thrive in times of change. In his hallmark down-to-earth manner, Kreek illustrates how to harness the lessons of high performance and apply strategies to transition from current practices to desired states.
Keynote and Workshop deliverables:
• Participants are empowered to accept and embrace change • Participants gain up-to-date knowledge and resources on best practices in change management • Participants gain the tools necessary for consistent self-improvement in changing environments • Participants experience Adam's ethic and insights on positive realism and learn how to apply this strategy in all areas of life
Optimum Health and Wellness for Peak Performance
From a childhood plagued with ADHD, to Stanford University, the Olympic Gold Medal podium, and honored as Canada's 2010 Athlete Leader of the Year, Adam Kreek's journey to success required a learned understanding of the integral relationship between nutrition, physical health, mental wellness, and peak performance. Adam offers science-based, gold medal strategies for sustaining health, wellness, and achievement across personal and work endeavors. Audiences gain an intimate understanding of what it takes to reach optimum health and wellness and the advantages once attained.
The Power of Adventure for Human and Environmental Health
Olympic Gold Medalist Adam Kreek uses the medium of adventure to expose, connect, and educate others about the wonder and beauty of our natural world. He believes that the more intimately we experience our outdoor spaces and natural resources, the more likely we are to use and conserve them effectively. He will share insights on using adventure and sport as platforms to support conservation and effective management of our natural resources to ensure long term human and environmental well-being.
Kreek is the representative for the Canadian Wildlife Federation's Sail for Wildlife Program and other conservation initiatives, and has a background in Geotechnical Engineering and Hydrology. He works with multiple not for profit groups seeking to restore and better human and environmental health.
Plan for Disaster and Ensure Success
When disaster strikes, it's too late to plan. Jobs, communities, and lives are at stake. In the Bermuda Triangle 800 miles from land, Adam Kreek was trapped inside a flooding cabin when his ocean-rowboat flipped. Exceptional safety preparation allowed him to survive this ultimate disaster. Kreek shares lessons from his death-defying experience, the international race course, and the business world to embolden your organization's safety culture.
Have you planned effectively for risk while avoiding analysis paralysis? Do your teams have the courage to communicate safety with each other? Managers and front-line workers will learn:
• Effective use of frank communication in a safety culture • Project Management insights from three years of planning this $500,000 adventure • Essential tools of visioning and preparation for the worst case scenario • The development of unbreakable confidence for successful execution in crisis • Using disaster planning to better your business bottom line
Get your audience thinking: "Wow. I am motivated to champion a safety culture. I will plan for safety and act safely."
Related Speakers View all
---
Cary Mullen

Olympic Skiier & Entrepreneur

Pat Croce

Mega-Entrepreneur & Former NBA Team Owner

Bill Rancic

"The Apprentice" Winner; Entrepreneur; Star of "Giul...

Robert Ballard

Renowned Ocean Explorer & Scientist

Afterburner

US Fighter Pilots & Team-Building Experts

Ted Turner

Media Mogul & Philanthropist

Vince Poscente

Former Olympic Speed Skier, Leadership & Sales Exper...

Dave Dravecky

Former Professional Baseball Player; Cancer Survivor...

John Cassis

Former Professional Baseball Player for MLB's Califo...

Jordan Goldman

Named "One of the top young entrepreneurs in America...

Jon Bergmann

Pioneer of the Flipped Class Movement & Bestselling ...

JP Pawliw-Fry

Co-Founder of the Institute for Health and Human Pot...

Robert Kriegel

Expert in Sports & Performance Psychology

Magic Johnson

Basketball Hall of Famer, Entrepreneur, Philanthropi...

Mark Sanborn

Leadership, Teamwork & Performance Expert; New York ...

Peter Vidmar

Olympic Gymnast, Fitness Advocate

Pat Williams

Motivational Speaker & Sports Executive; Senior Vice...

Jeff Taylor

Founder of Monster.com & Eons.com

Vince Papale

Former NFL Player & Inspiration for the Movie "Invin...

Janet Evans

5-Time Olympic Medialist, Motivational Speaker & Bus...
More like Adam