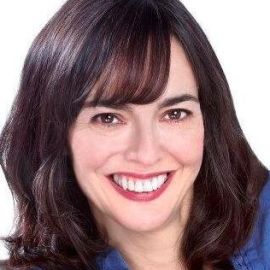 Lenore Skenazy
Host of "World's Worst Mom" on Discovery Life; President of Let Grow & Founder of the Free-Range Kids Movement
Lenore Skenazy is "America's Worst Mom." (Google it!)
The New York City columnist-turned-reality TV show host got that title after letting her 9-year-old son take the subway, alone. In response to the enormous media blowback, she founded the book and blog, "Free-Range Kids," which launched the anti-helicopter parenting movement.
Her feisty belief that our kids are safer and smarter than our culture gives them credit for has landed her on talk shows from The Daily Show to to Dr. Phil to The View, The Today Show, NPR, Good Morning America, Nightline, ABC World News Tonight, CBS Early Show, CNN, FoxNews, Anderson Cooper, the BBC, CTV and CBC.
She has lectured internationally, including talks at Microsoft Headquarters and the Sydney Opera House, and has written for everyone from The Wall Street Journal to Mad Magazine. Yep. The Mad Magazine. And she's a graduate of Yale.
On her Discovery Life reality show, "World's Worst Mom" (a.k.a. "Bubble Wrap Kids" in Canada) Lenore is like the Supernanny. Except instead of dealing with out-of-control KIDS, she deals with out-of-control PARENTS who have taken over-protection to extremes. Some don't let their school-age kids play on the front lawn or even make themselves a sandwich. (Why not? Knives!) One still drags her 13-year-old son into the ladies room.
Over the course of her visit, Lenore pries the kids away from their folks and has them walk to school, play in the woods, or run a lemonade stand while she films them from afar. Once she shows the parents how independent and happy their "babies" can be, the parents change…forever! Months later, the moms are still in touch with Lenore, bragging about all the new things their children are doing. The change, in other words, is lasting — and joyous.
Speech Topics
---
Lean Out — of Your Kids' Lives a Little — and Everybody Thrives
How Come We're So Much More Afraid Than Our Parents Were?
Busy Parents, Happy Kids: Feeling Great About the Work-Life Balance
Play Dates & Axe Murderers: How to Tell The Difference
Building Confidence: Free-Range in the Classroom
Yuppie Jiu Jitsu: How Helicoptering Less Creates Kids Who are Leaders
Relax! Not Every Little Thing You Do Has THAT Much Impact on Your Child's Development
Free-play: Nature's Super-Vitamin
Related Speakers View all
---
Wylie Dufresne

Chef & Former Owner of New York's highly celebrated ...

Simon Doonan

Author, SLATE columnist Creative Ambassador for Barn...

Scott Conant

Celebrity Chef, Judge on Food Network's Chopped, Aut...

Graham Hill

Founder of Life Edited & TreeHugger.com

Nina Planck

Nina was born at home in Buffalo, New York in 1971. ...

Alfie Kohn

Author & Speaker on Human Behavior, Education, & Par...

Maddy Dychtwald

Co-Founder & Senior VP of Age Wave, Author & Changin...

Andrew Carmellini

Chef/Partner at Locanda Verde, The Dutch, Lafayette ...

Lidia Bastianich

Celebrity Chef, Author, Host of "Lidia's Kitchen"

David Chang

Founder & Chef of Momofuku Restaurant Group

Carrie Schwab-Pomerantz

Chief Strategist, Consumer Education, Schwab & Co.

Tim McCarthy

Director, Human Rights and Social Movements Program,...

Paul Goldberger

Architecture Critic, Design Professor & Contributing...

Stuart Firestein

Scientist; Advocate for the Public Understanding of ...

Stephen Jay Greenblatt

Cogan University Professor of the Humanities at Harv...

David Bellos

Translator

Robert Cialdini

CEO & President of Influence at Work; Leading Expert...

Sam Harris

Neuroscientist, Philosopher & Bestselling Author

Henry Rollins (Spoken Word)

Artist

Spencer Wells

Geneticist, Anthropologist, Author, Entrepreneur, Ad...
More like Lenore