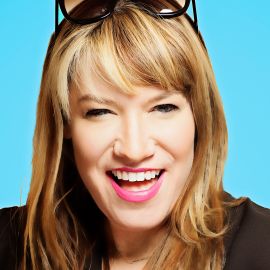 Amber J Lawson
Doing Good At Scale, Global motivational speaker on Impact & Digital distribution, Influencer Expert.
Amber J. Lawson is on a MISSION: TO DO GOOD AT SCALE as the founder, CEO of Good Amplified, the only YouTube MCN exclusively servicing non-profits. Good Amplified helps non-profits build millennial audiences creating donor retention & revenue though content. Lawson was awarded Cynopsis Women in Digital Entrepreneur of the Year & Top 50 Women in Digital for her work as cofounder & CEO of The Emmy & Streamy Nominated and IAWTV best live event Winner, Comedy Gives Back, leveraging comedy across platforms raising money for various charities, a global digital telethon. Lawson is a founding partner of Storytech, served as Head of Video Programming & Originals at AOL and led the US acquisitions and development efforts for pioneering video platform Babelgum.com overseeing their international comedy business.
Lawson is a judge of the AdWeek Watch awards and host of the MIPTV digital fronts. Lawson has been a featured speaker at MIPTV, NAB, CES, LATV Fest, AlwaysOn, JFL Montreal Comedy Festival, VidCon, Digital Hollywood, Comedy Content Summit, SXSW, Silicon Beach, NATPE, ITVfest, Cause Marketing Forum, AdTech & SMWLA. Amber J's digital leadership and forward thinking resulted in her nomination for 2010 PGA Top 25 in Digital and being awarded the 2011 NATPE Luminary Award. She is the chairman of the Membership Working Group of Interactive Media Peer Group of The Academy of Television Arts & Sciences, an active member of the New Media Council at the Producers Guild of America.
http://en.wikipedia.org/wiki/Amber_J_Lawson#Career http://www.linkedin.com/in/AmberJLawson
Videos
---
Speech Topics
---
Influencers the direct to consumer do gooders!
Building an effective social good campaign
To successfully resonate with audiences, many brand initiatives and content marketing strategies require a social good component. Navigating the world of non-profits, along with inspiring creators to get on board is time-consuming, difficult and fraught with peril. But when all these ecosystems intersect, the mutually beneficial synergies create value for everyone involved. This seminar explores how to select the right non-profit to partner with, how to set up a structure to manage expectations and deliverables, and how to get creators excited, enthusiastic, and on board.
News
---
She's making make a wishes dreams come true
By Tracy Moran THE DAILY DOSE JUN 08 2016
Kobe Bryant wasn't attracting much attention. The 18-time NBA All-Star and Lakers shooting guard might've been accustomed to cheering fans, but a video he shot for Make-A-Wish America just wasn't drawing as many eyeballs as he or the charity had hoped. Until, that is, Amber J. Lawson grabbed the ball.
This is Lawson's game: helping nonprofits score YouTube traffic — and ad revenue. Her Good Amplified is the first and only multi­channel network dedicated solely to helping charities tell their stories and boost revenue via the Internet's most popular video platform. Feel-good video attracts eyeballs, as we know, and Lawson is trying to harness all that Internet lovey-doveyness into dollar signs. She uses major YouTube influencers like Shira Lazar, Matthew Santoro and Monica Church, whom many people over the age of 20 probably haven't heard of, to help push her clients' messages.
In the U.S. alone, charitable giving generated more than $358 billion in 2015, according to The NonProfit Times. But in the age of social media and YouTube, charities face a "tricky marketing situation," says Kelly Collins, CEO of Vult Lab, a social media group specializing in nonprofit community building. She notes how organizations have long relied on fundraising campaigns powered by snail mail, telemarketing and email. But to thrive, she says, these groups must "learn how to interact with millennials on mobile platforms."
Close The main goal for nonprofits, Collins says, is to simply engage with millennials. They're not playing the "everything must go viral" game so much because, Collins says, "they don't expect young people to give money." Instead, they're striving for Likes and Follows to make an initial, lasting connection with millennials before worrying about getting donations from them. "If they can't figure out how to convert their audiences from brick-and-mortar to digital, I think many nonprofits will disappear by 2025," Collins warns.
But there's no need to shoot in the dark to net this demographic, Lawson says, because they're already on YouTube. More than a billion users visit the video platform each month — adding up to more than 4 billion hours of video watching, according to the network. Considering that shoppers who view video are 174 percent likelier to purchase something, according to Retail TouchPoints, YouTube is quickly becoming a mecca for finding the cause-driven donors of the future. Lawson is simply, but cleverly, helping charities "fish where the fish are," as she puts it.
And it's working so far: Since Lawson and her team started working with Make-A-Wish America in the spring of 2015, the organization's subscribers are up 107 percent, views are up 70 percent and minutes watched have surged 91 percent. Bryant's video, which had netted only around 600,000 views after nearly four years, has now racked up more than 2 million views thanks to Lawson's help. And after just two months with Good Amplified, Teen Cancer America saw its subscribers soar by 45 percent.
But Lawson isn't doing anything — not even a Skype interview — before touching up her makeup. When she comes into view, lip gloss freshly reapplied, she's donning sunglasses atop her head and petting a "big-boned" 14-year-old Chihuahua named Lola. Serious and stuffy she is not, so much as loud, bubbly, likable. She's quick to laugh, and her Midwestern accent — she proudly says she was "buddies" with Mad Men's Jon Hamm while studying theater at the University of Missouri — oozes sincerity. Offering a helping hand runs in the family: Lawson can remember her dad, Charles, trying to flip real estate when she was young, but he ended up falling in love with the properties and instead rented them as low-income housing. Mom Tina Peters, meanwhile, remains "big in the church," delivers flowers to the elderly and serves as the "shuttle service for all of Kansas City."
Amberjlawson yasminnaboa
Good Amplified COO Yasmin Naboa and CEO Amber J Lawson. SOURCE GOOD AMPLIFIED Lawson started her professional life as a performer, quickly moved into producing and then ran networks like ManiaTV and Babelgum. Then, AOL, where she managed programming with "every resource in the world at [her] fingertips" (apart from sleep). "I figured out making money," she says, but decided there had to be a "bigger endgame." So she aimed to become a "conscious capitalist" and launched Comedy Gives Back with a couple of friends, live-streaming events across platforms and raising funds for charities. When she saw what heavy lifting such events required for charities, she began asking herself, "How do you do good in your sleep?"
Jono Smith, Make-A-Wish America's director of brand marketing and digital strategy, says the charity was originally "just feeding [YouTube] with videos and hoping people would show up and watch." Now, Lawson is helping them score. She and her team leverage storytelling on YouTube and help charitable organizations manage their channels by optimizing videos to build audiences and what she calls a "donor retention program." And when organizations are part of the Good Amplified Network, they are included in what Lawson refers to as "value adds," like an activation that debuted at SXSW called #DonatetheBars.
What really matters? "She and her team get things done," Smith says.
Related Speakers View all
---
Amy Oestreicher

TEDx Speaker, author, artist, HuffPost columnist, an...

Dr. Alison Thompson

Humanitarian & Author of The Third Wave

Beverly Gooden

#WhyIStayed Creator, Domestic Violence Activist, Con...

Gbadebo Odularu

PhD Economist keen on deploying data science to solv...

Graham Hill

Founder of Life Edited & TreeHugger.com

John Legend

EGOT Winning Musician, Producer & Philantropist

Calvin Trillin

Author, Columnist, Humorist & Political Satirist

Scott Shellstrom

Creativity Innovator, Award Winning Creative Directo...

Claudia Effe

Trauma Psychotherapist, turned writer by the biggest...

Rachel Fine

Howard Stern Show / Watch Rachel on Howard Stern's "...

Kevin Allocca

Head of Culture & Trends at YouTube

Harry G. Broadman

Dispelling Myths About Emerging Markets Business Gro...

Stephen Birchak

One of the top speakers in the nation for how to use...

Igor Beuker

World Authority on Marketing and Media

Daymond John

"Shark Tank" Investor; Founder & CEO of FUBU; Presid...

Kathy Ireland

CEO & Chief Lifestyle Designer of Kathy Ireland Worl...

Laura Ingraham

Political Commentator, Television Host & Journalist

Gloria Estefan

Grammy Award-Winning Latin Musician

Catherine Crier

Acclaimed Author, Former Judge, Award-Winning Journa...

Sir Richard Branson

Businessman, Founder of Virgin Group
More like Amber