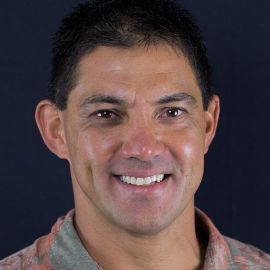 Kaala Souza
Motivational Speaker and Trainer on Customer Service, Leadership, Teamwork, Diversity and Communication
Ka'ala Souza is the owner of Ka'ala Souza Training and Consulting where his major goal is assisting others in achieving theirs. Born and raised in Hawaii, on the island of Oahu, with a background in marketing research and as the senior pastor of the church Hope Chapel Mana'olana, Ka'ala brings a unique perspective to his work.
Kaala has been making a living as a speaker, consultant and trainer since 1999 when he left his job as a marketing researcher and program evaluator at SMS Research in Honolulu. It was the proverbial launch from the nest with wings frantically flapping. His wife and children had a tough time trying to explain his new job to their friends. According to Micah Souza, his youngest son, his dad "talks." He does. A lot.
He speaks at companies, schools, conferences, seminars and at home (to his kids). He's worked with many of the top 20 largest companies in Hawaii as well as not-for-profit groups, clubs and organizations throughout the state including Queens/Diagnostic Laboratory Services, HMSA, and the Kamehemeha Schools. His consulting and training includes leadership and management development, communication, teambuilding and customer service. He has a gift to connect with diverse audiences, make them laugh, think, get motivated and grow. Kaala is also very active in training with the City and County of Honolulu and Kauai where he's working on contributing to an increase in the spirit of Aloha in the public sector.
He and his family enjoy all things outdoors including surfing, standup paddling, fishing and diving. He works out with his wife and friends in his garage gym doing (or at least trying to do) the ridiculously intense Crossfit workouts, jujitsu and kickboxing.
Videos
---
Speech Topics
---
Pono: A Hawaiian-Style Approach to Balance and Well-Being
They say the smarter you are the less time and mental energy you actually have for yourself. The problem suifaces when this lack ofenergy balance shows itself in our inability to reset, to refresh, to renew our motivation and feelings ofwell-being. This training will focus on retrieving these feelings by living Pono, with a Sense of Place, Purpose and Power. Only when we are Pono can wefind the work-life balance we're searchingfor. This workshop will offer participants time to focus their mental energy towards these bigger questions by revisiting their Sense ofPlace, Purpose and Power with the following objectives:
Recognizing the powerful links between our past and our present and how it affects our future
Discovering how to find real purpose in what we do
Learning what our fuel tanks are and how to keep them full